Ingredients
Crumble:
1/4 cup – unbleached all-purpose flour
2 tablespoons – packed brown sugar
1 1/2 tablespoons – unsalted butter, diced
1/8 teaspoon – cinnamon
pinch of kosher salt
Wet Ingredients:
1/2 cup – unsalted butter
1/4 cup – packed brown sugar
1/4 cup – pure maple syrup
1/4 cup – whole milk
1 – large egg
1/2 teaspoon – pure vanilla extract
1 cup – grated apple, peeled (one large apple)
Dry Ingredients:
1 cup – unbleached all-purpose flour
1/2 cup – whole wheat pastry flour
1 1/2 teaspoons – aluminum-free baking powder
3/4 teaspoon – cinnamon
1/4 teaspoon – baking soda
1/4 teaspoon – kosher salt
Glaze (optional):
1/2 cup – powdered sugar
2 teaspoons – whole milk
Pair each serving with:
8-ounce glass of real milk
DIRECTIONS
Preheat oven to 400°F degrees. Line muffin tin with parchment paper. Set aside.
Assemble the crumble. Place all the crumble ingredients together in a small bowl. Set aside.
Begin preparing the wet ingredients. In a small saucepan, melt butter on low until half melted. Set aside to continue melting and cooling. In a medium mixing bowl, stir together all the dry ingredients.
To the melted butter, whisk in all the remaining wet ingredients, except for the apples, until evenly combined. Grate apples as you'd grate cheese. Add apples and the wet mixture into the dry mixture, and stir until just combined.
Using a 2-ounce spring release scoop, evenly distribute batter in prepared tin.
Using your hands, mix together crumble until a loose cohesion forms. Top the muffins with the crumble. Bake for 16-18 minutes or until the center is firm to the touch. Allow to cool for at least 10 minutes before glazing.
Make the glaze. In a small bowl, stir together all the glaze ingredients until smooth. Pour into a ziplock bag. Cut a tiny corner off the end of the bag and pipe glaze in a back and forth motion. Allow to harden before serving or store in a loosely covered container, allowing just a little air to get in, for up to 4 days!
Make these the night before and serve with an 8-ounce glass of real milk for an easy morning breakfast.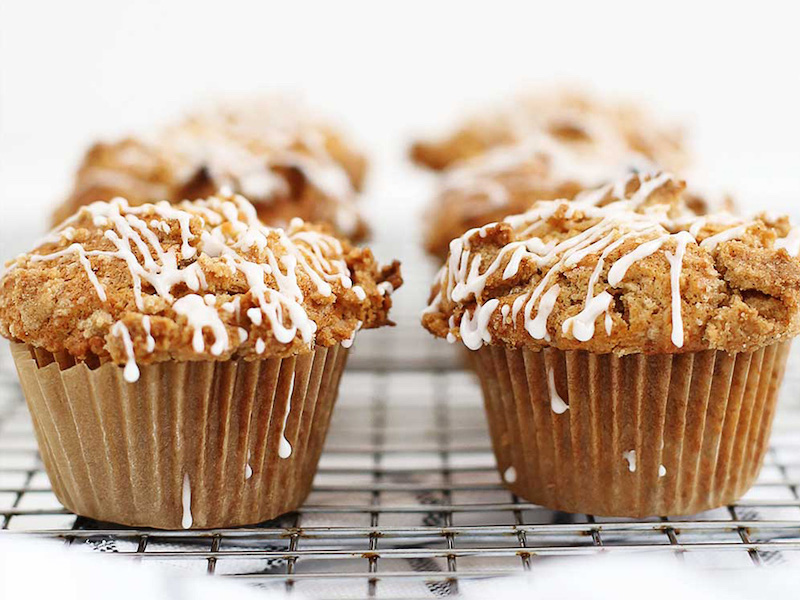 NUTRITION
370 calories; 16g fat; 10g saturated fat; 65 mg cholesterol; 11 g protein; 48 g carbohydrates; 2 g fiber; 310 mg sodium; 383 mg calcium. Nutrition figures include an 8-ounce glass of low-fat milk.