Take inspo from your pumpkin spice latte and make a short stack of pumpkin pancakes. Your kids will flip for this favorite flavor and bring the bounty of the fall harvest to breakfast.
Ingredients
3/4 cup – all-purpose flour
3/4 cup – whole wheat flour
2 teaspoons – baking powder
2 teaspoons – pumpkin pie spice
salt
1 1/2 cups – low-fat or fat-free milk
3/4 cup – canned pumpkin purée (not pumpkin pie filling)
2 – eggs
3 tablespoons – brown sugar
2 tablespoons – canola oil
1 tablespoon – vanilla extract
(optional, as desired) – Maple syrup
DIRECTIONS
Whisk together both flours, baking powder, pumpkin pie spice, and salt in a bowl. In a second bowl, blend the milk, pumpkin, eggs, brown sugar, oil, and vanilla. Add wet ingredients into dry ingredients and stir just until dry ingredients are incorporated. Don't overmix—some lumps are okay.
Heat a nonstick griddle to 350°F or a skillet over medium. Coat lightly with non-stick spray, then pour about 1/3 cup batter onto the griddle. Cook until bubbles start to appear and pop on the surface and the underside is golden. Flip and continue to cook until golden and no longer wet in the center. Serve with maple syrup and a tall glass of milk!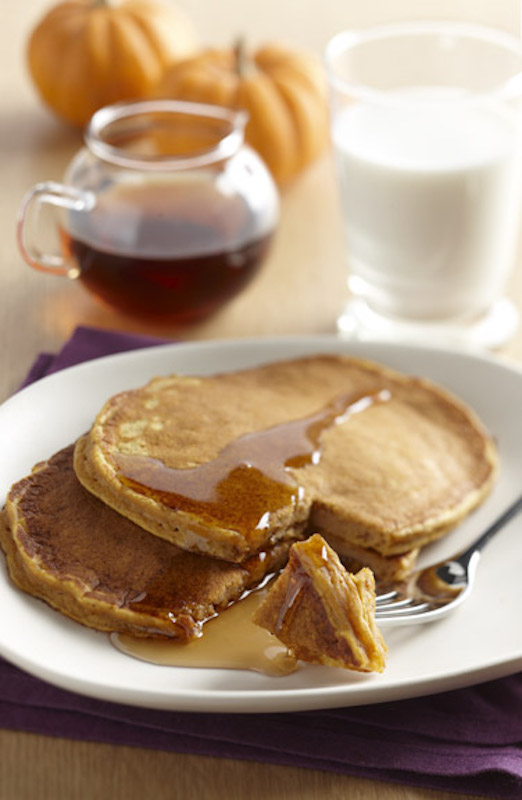 NUTRITION
240 calories; 7 g fat; 1.5 g saturated fat; 75 mg cholesterol; 8 g protein; 35 g carbohydrates; 3 g fiber; 35 mg sodium; 150 mg calcium. Nutrition figures based on using fat-free milk.