Ingredients
1 1/2 pounds – butternut squash (to yield 2 cups mashed)
1 cup – reduced-sodium chicken broth
1 1/4 teaspoons – dry mustard powder
1/4 teaspoon – salt
1 cup – low-fat milk
2 cups (7 1/2 ounces) – shredded cheese (feel free to use an assortment like sharp Cheddar, mozzarella, Gruyère)
1 (16-ounce) box – large pasta shells or elbow noodles, cooked al dente
Pair each serving with:
8-ounce glass of fat-free milk
DIRECTIONS
Slice butternut squash in half lengthwise. Remove seeds, prick flesh with a fork a few times, and pour water into the hollow part of each half. Place on a plate and microwave butternut squash for 7-9 minutes, until center is very soft.
In a large saucepan over low heat, combine chicken broth, dry mustard and salt. Holding butternut squash with an oven mitt, scoop flesh, about 2 cups-worth, directly into the saucepan and puree with an immersion blender until smooth. Note: you may also use a traditional blender or food processor but be sure to puree in small batches and hold the lid on tight. It can explode if you're not careful.
Add the low-fat milk and shredded cheese, stirring constantly until melted and then fold in cooked shells. Remove from heat and mix until well coated. Serve immediately with an 8-ounce glass of fat-free milk.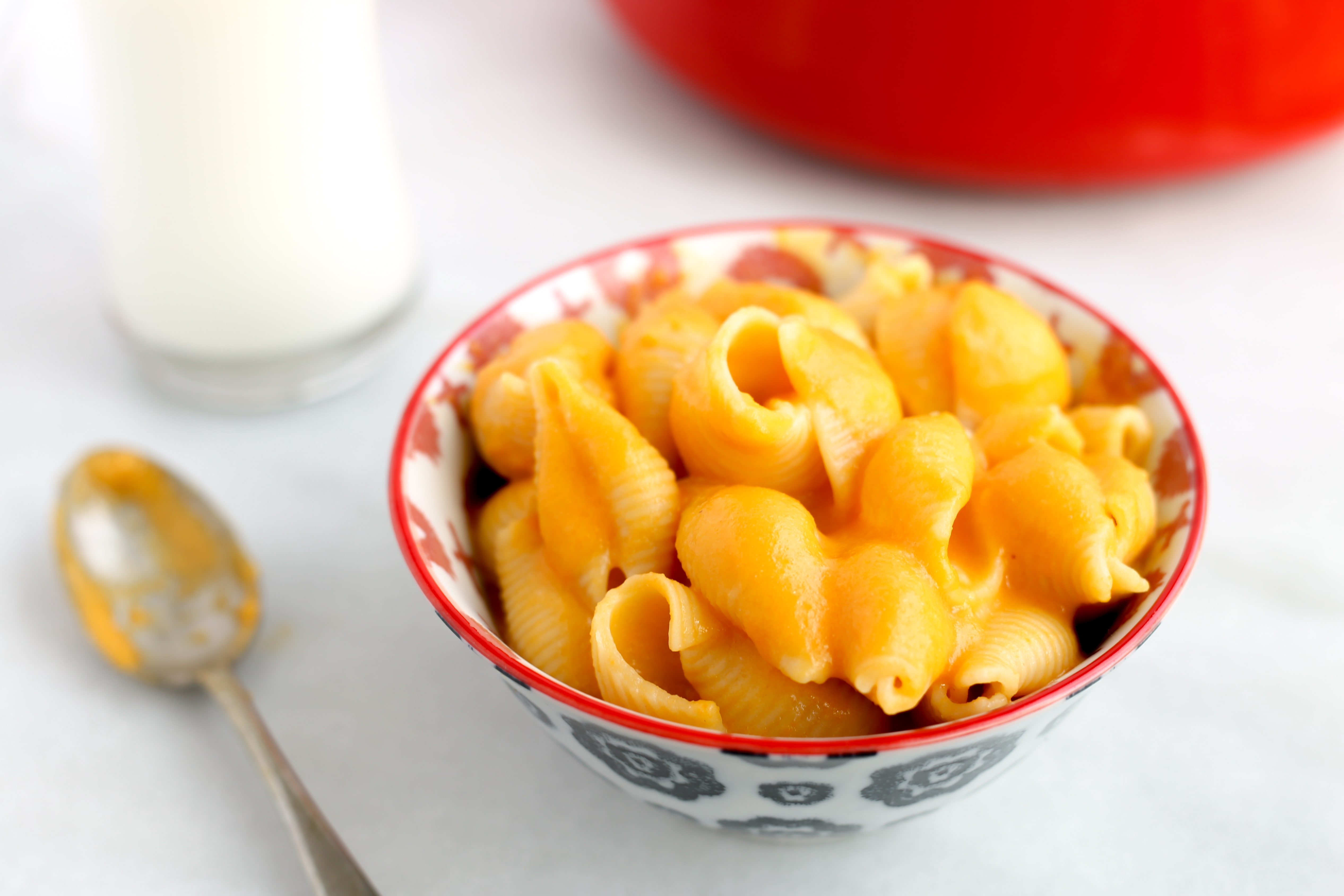 NUTRITION
560 calories; 14 g fat; 8 g saturated fat; 45 mg cholesterol; 30 g protein; 79 g carbohydrates; 5 g fiber; 480 mg sodium; 610 mg calcium. Nutrition figures based on using low-fat milk in pasta, and include an 8-ounce glass of fat-free milk.