Top 10 Breakfast Foods To Pair With Milk
What does America pair with its milk in the morning? We asked more than 8,000 Americans to share what they match with milk each morning, and while some answers weren't too surprising (cereal anyone?), some were a little more unexpected.
10. Waffles
Nothing quite compares to waffles fresh off the iron, but we love the ease of throwing the frozen variety into your microwave or toaster for a quick breakfast as well. Don't forget to wash all of that sticky syrup down with a glass of milk!
9. Bagel
Bagels are easy. Slap on a topping and you're good to go. Also, just as easy — a glass of milk on the side. Pour one, and you'll be enjoying your speedy breakfast with a nutritional boost.
8. Yogurt
Many Americans double dip on dairy by starting the day with a glass of milk and a cup of yogurt for a powerful nutrient one-two punch.
7. Hot Cereal
Heat up your mornings with a bowl of warm cereal. Whether you prefer oatmeal, farina, or any other kind of porridge, make your instant version a bit creamier by preparing it with warm milk instead of water.
6. Pancakes
Nothing says family breakfast like fresh pancakes in the morning. Considered a real treat when there is time to grill a stack, this weekend breakfast staple is a favorite of adults and kids alike.
5. Breakfast Meats
Mmmm… bacon. Breakfast meats might be voted the No. 1 wake-you-up smell in the morning. Enjoy them alongside a glass of milk to add in the 13 essential nutrients and give yourself a nutritional boost.
4. Toast
Toast is one of the most versatile breakfast foods. Topped with jelly, jam, peanut or other nut butters, cinnamon — the possibilities are endless! Try using whole grain bread alongside your glass of milk.
3. Fruit
Apples and bananas! Most fruits require little to no prep time that pack in lots of fiber to fill you up at breakfast. Add milk and cereal and you've got a head start on three important food groups — all before lunch.
2. Eggs
Eggs are probably one of the first foods that come to mind when thinking of breakfast. While most people have their milk on the side, the savvy folks among us like to put milk in their scrambled eggs because it makes them taste even better.
1. Cold Cereal
It's no surprise that cold cereal took the top spot on this list. While cereal is okay on its own, it's at its best when paired with milk. In fact, pairing milk with a fiber-rich cereal gives you three of the four "nutrients of concern" (calcium, vitamin D, and fiber) — the nutrients most likely to be lacking in Americans' diets — according to the U.S. Dietary Guidelines for Americans.
Explore all of our Breakfast recipes here.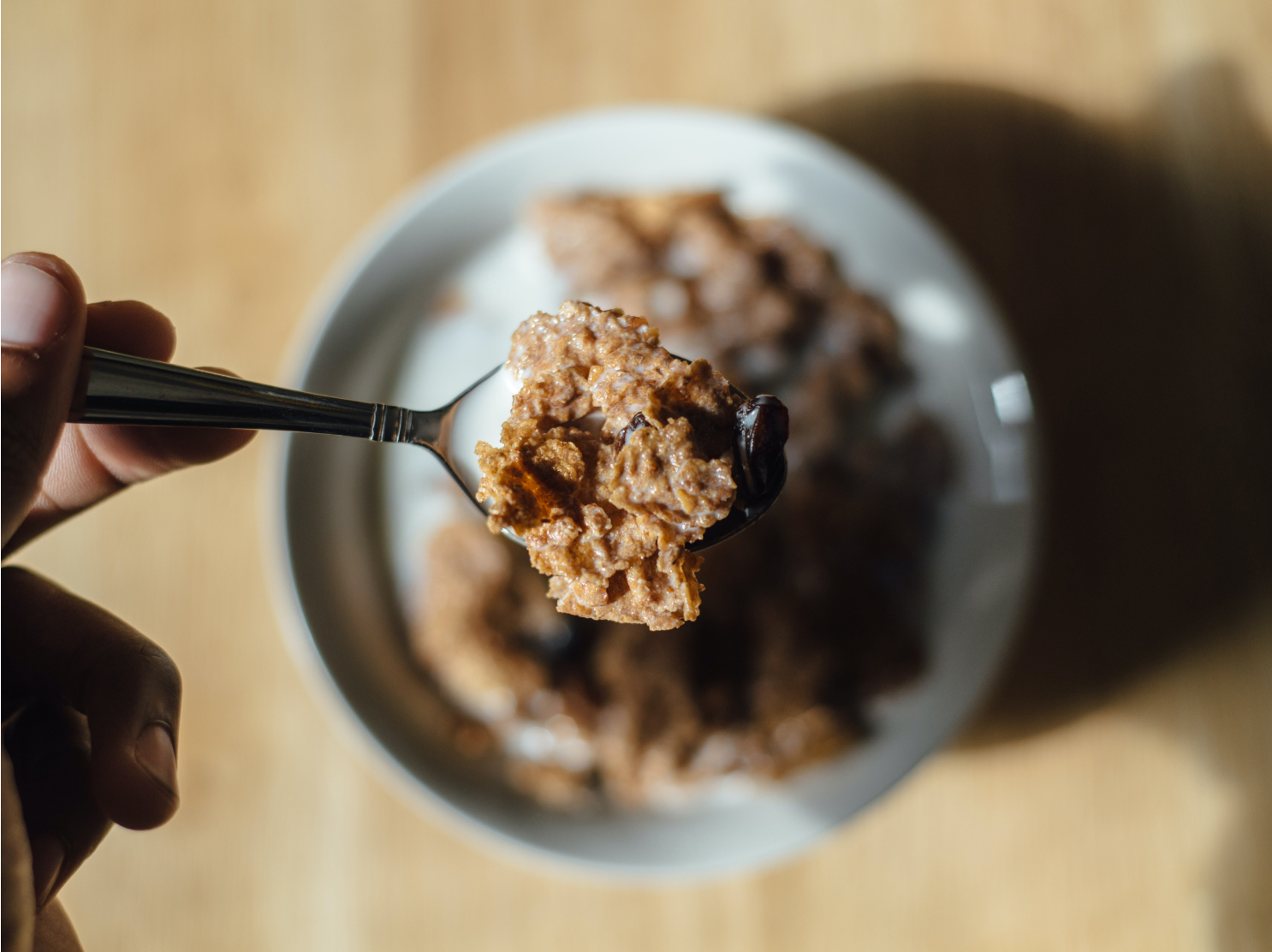 Breakfast Consumption Study, Monitor Group, 2011; Survey of more than 8,000 milk-drinking Americans ages 1 to 65 who eat breakfast at home.