Kids will love this homemade version of a popular breakfast. Our homemade pop pastry includes fresh strawberries to add a finishing touch to this delicious morning meal.
Ingredients
1 package (2 crusts) – purchased rolled pie crusts, 9″ diameter
3/4 cup – strawberry all-fruit spread*
2 tablespoons – low-fat or fat-free milk
4 – fresh strawberries, stemmed
DIRECTIONS
Preheat the oven to 425°F. Line a baking sheet with parchment paper or coat lightly with non-stick spray. Unroll both rounds of pie dough onto a lightly floured work surface and place one on top of the other.
Using a pizza wheel or a chef's knife, cut the rounds into 8 wedge-shaped pieces (for a total of 16 wedge-shaped pieces). Arrange wedges on a work surface.
Spread 1 1/2 tablespoons of the fruit spread onto eight of the wedges, leaving a 1/2-inch margin around the sides. Arrange the eight wedges on the prepared baking sheet and brush the edges with some of the milk.
Using a small heart-shaped cutter, cut a heart out of each of the remaining eight pastry wedges (discard the hearts) and arrange on top of the jam-filled wedges. Press the edges with the tines of a fork to seal. Brush the tops of the pastries with additional milk and bake for 10 to 12 minutes, or until pastry is golden brown.
Let the tarts cool on the baking sheet for 10 minutes, then transfer to a rack to cool completely. Before serving, slice the fresh strawberries in half from top to bottom to form heart shapes. Place a strawberry slice in each heart cut-out. Serve with a glass of milk.
*For a flavor twist, spread 1 tablespoon of chocolate hazelnut spread onto eight of the wedges, then spread with just 1 tablespoon of the strawberry spread. Proceed with the recipe as written.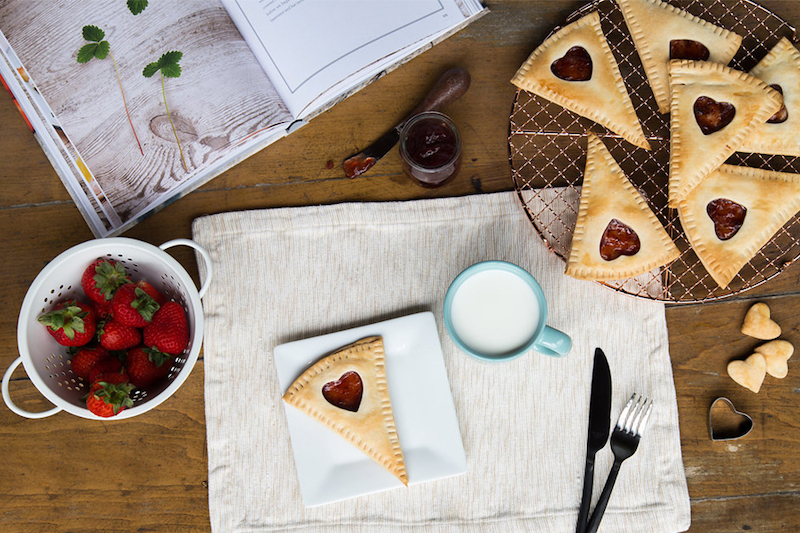 NUTRITION
260 calories; 11 g fat; 3.5 g saturated fat; 0 mg cholesterol; 3 g protein; 38 g carbohydrates; 2 g fiber; 180 mg sodium; 16 mg calcium.Nutrition figures based on using fat-free milk.