Spice up your dessert game with authentic, spiced flan.
Ingredients
Caramel Ingredients:
1 cup – sugar
1/2 cup – water
1 tablespoon – corn syrup (optional to prevent crystallization)
Custard Ingredients:
8 ounces – cream cheese
6 – eggs
1 cup – sugar
1 cups – milk
1 cup – heavy cream
1 tablespoon – vanilla extract or paste
1 – cinnamon stick
1/4 teaspoon – ground nutmeg
1/4 teaspoon – ground cloves
1 – whole star anise (sub 1/4 teaspoon nutmeg)
1/4 teaspoon – ground cardamom
1/2 teaspoon – ground ginger
1 – orange or lemon peel
DIRECTIONS
Preheat oven to 350°F (325°F for convection ovens).
Combine sugar and the water in medium heavy-based saucepan; stir over heat, without boiling, until sugar dissolves. Bring to a boil uncovered, without stirring, until mixture is a deep caramel color. Remove from heat. Pour into a deep 8-inch round baking pan; cool completely.
Whisk cream cheese and spices until smooth, add in eggs, vanilla, and sugar in large bowl.
Combine cream and milk, citrus peel, cinnamon stick and star anise in a medium saucepan; bring to a boil. Shut off heat and let spices steep for 10 min. Strain over egg mixture, whisking constantly to bring the eggs to temperature without scrambling. Strain mixture into cake pan.
Place pan in baking dish; add enough boiling water to come halfway up side of pan. Bake, in oven, about 40 minutes or until set. Remove custard from baking dish, let it come to room temp, cover and refrigerate overnight.
Gently flip flan into deep-sided serving plate. Enjoy!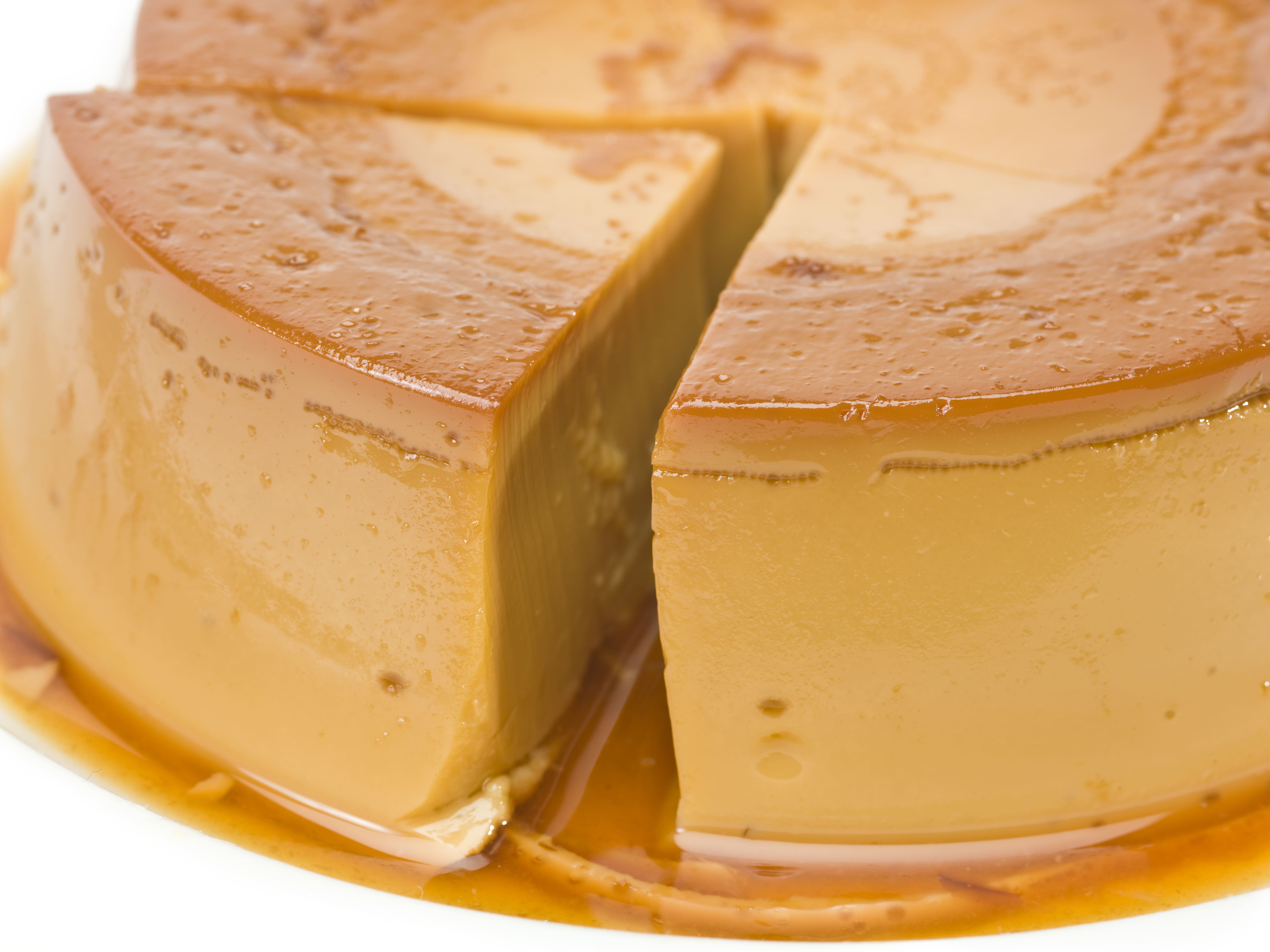 NUTRITION
460 calories; 24 g fat; 14 g saturated fat; 185 mg cholesterol; 8 g protein; 55 g carbohydrates; 0 g fiber; 160 mg sodium; 104 mg calcium. Nutrition figures based on using low-fat milk and do not include optional ingredients.
Recipe & photo by: Chef Claudette Zepeda