From a sweet side dish to a straight dessert, these yams are a must.
Recipe by Pro Basketball Player and Registered Dietitian Briana Butler
Ingredients
2 pounds (about 6 small) yams
1⁄2 cup milk, 2% fat
1⁄2 teaspoon vanilla extract
1 tablespoon 100% pure maple syrup
1 egg
15 grams mini marshmallows
1 egg white
1⁄2 ounce chopped pecans
1 sprinkle ground cinnamon
DIRECTIONS
Twice Baked Yams
Preheat the oven to 400F.
Wash yams and place them on a parchment-lined pan.
Bake on the bottom rack for 40–45 minutes or until the potatoes are tender.
Remove from pan, slice yams in half lengthwise.
Scoop out the flesh of yams (be careful to leave the skin intact) and add yams to a large mixing bowl.
Add in milk, one egg, maple syrup, and vanilla.
Using a hand mixer, blend yam mixture until smooth.
Refill the yam skins until there is no mixture remaining.
Place yams back in the oven for 20 minutes.
Remove them from the oven and top with egg-white marshmallow mixture, turn the oven to broil, and place the pan back in the oven for 5 more minutes or until white peaks are slightly brown.
Remove from the oven, sprinkle cinnamon and pecans on top, and serve!
Topping
Heat marshmallows in a microwave-safe bowl for 15 seconds (you may have to pause every 5 seconds to avoid marshmallows spilling over as they will expand quickly).
In a bowl, blend egg white on high for about 1 minute.
Add in melted marshmallow and continue to blend until soft peaks appear.
Set aside.
Tip
Feel free to swap for sweet potatoes if you cannot find yams in your local produce section. Yams are naturally more sweet, but the result should still be equally delicious!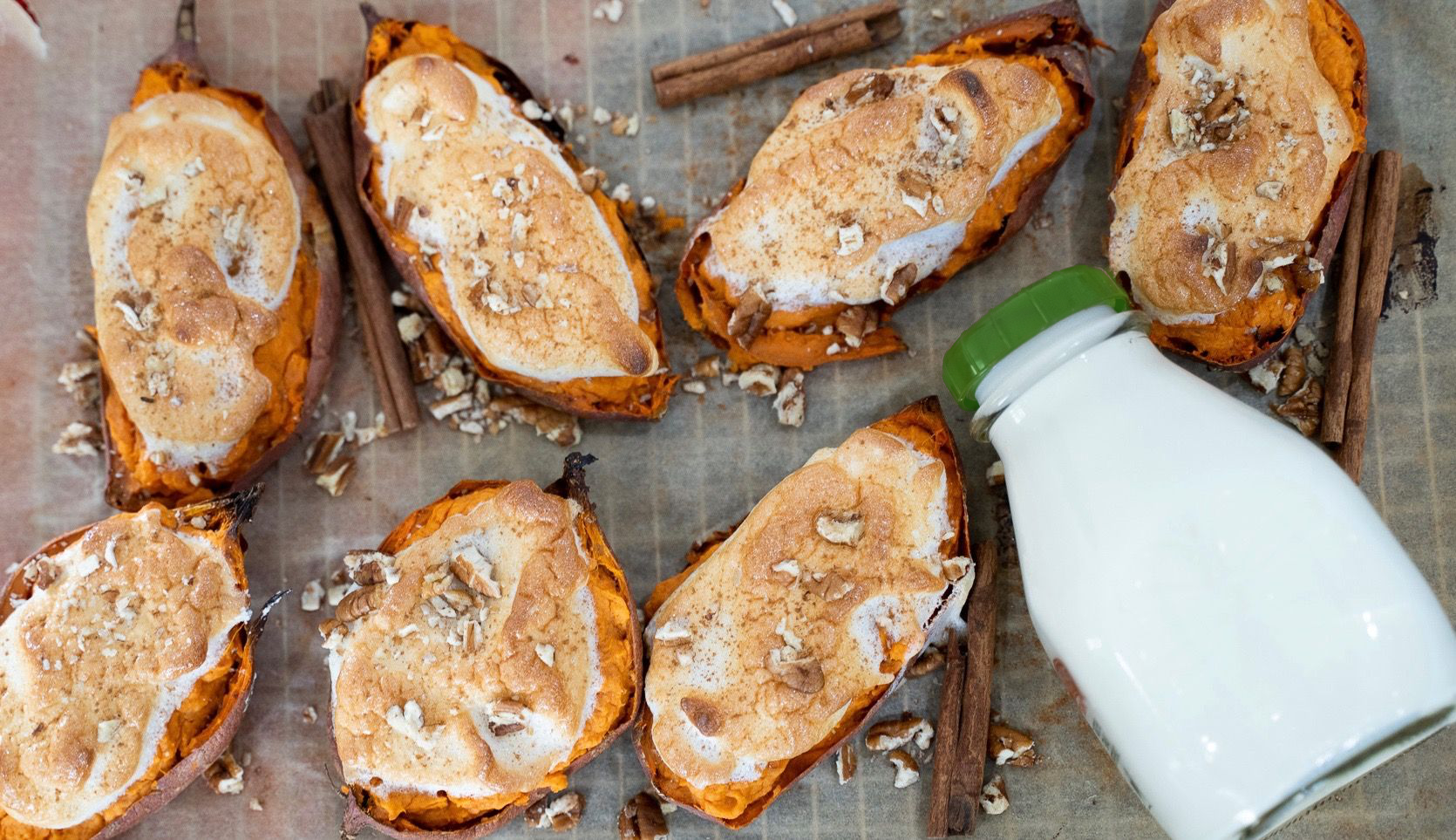 NUTRITION
Protein 2.45g, Total Fat 1.58g, Carbs 24g, Calories 119kcal, Fiber 3.22g, Calcium 30mg, Iron 0.52mg, Folate, DFE 20, Fruits 0 servings, Vegetables 1.01 servings, Saturated Fat 0.36g, Sodium 23mg, Added Sugar 0.72g.