Whipped Raspberry Overnight Protein Oats
Breakfast
Looking to punch up your overnight oats recipe? Add raspberries for flavor and milk to whip up your overnight protein oats into more protein for breakfast in the morning.
Ingredients
1/2 cup – rolled oats
1/2 cup – reduced-fat milk
1/2 cup – reduced-fat Greek yogurt
1/2 cup – fresh raspberries
1/2 tablespoon – chia seeds
pinch – kosher salt
1/2 teaspoon – vanilla extract
additional raspberries for garnish
pair each serving with:
8-ounce glass of milk
DIRECTIONS
Combine all ingredients through vanilla extract in a blender and allow to soak overnight (or for a minimum of 4 hours) in the fridge.
In the morning, pulse the blender a few times until oats are just whipped together and raspberries puréed. Transfer to a bowl and garnish with additional raspberries and toppings of your choice.
Serve with remaining 8-ounce glass of milk.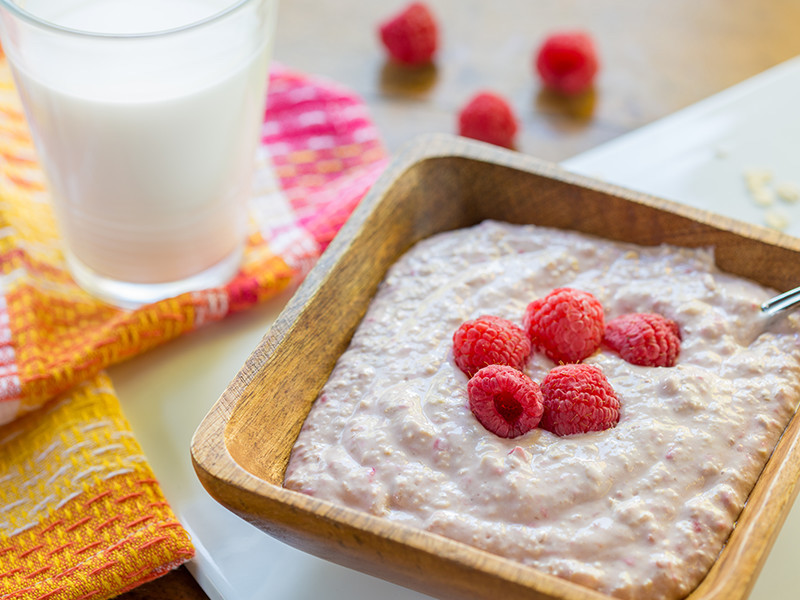 NUTRITION
480 calories; 14 g fat; 6 g saturated fat; 35 mg cholesterol; 30 g protein; 59 g carbohydrates; 10 g fiber; 450 mg sodium; 590 mg calcium. Nutrition figures based on using reduced-fat milk, and include an 8-ounce glass of milk.