The perfect pumpkin pick-me-up
Recipe by: Pro Basketball Player and Registered Dietitian Briana Butler
Ingredients
Soup Ingredients:
⅓ cup – Chia Seeds
1 ½ cups – 2% Reduced Fat Milk
Crouton Ingredients:
4 pieces – Dates, pitted
1 cup – Pumpkin puree
¼ teaspoon – Vanilla Extract
½ teaspoon – Ground Cinnamon
1/4 cup – Ground Nutmeg
1 tablespoon – Organic Maple Syrup Grade A
Topping:
1 ½ bars Crunchy Granola Bars Oats N Honey
DIRECTIONS
Combine chia seeds and milk in an airtight container.
Seal, shake well and place in the refrigerator for at least 4 hours or until set.
Combine all puree ingredients, starting with your dates, into a small blender and blend until smooth. You may have to stop and give the mixture a few shakes to ensure all of the ingredients get blended. Chill in the refrigerator.
When the pudding is set, stir it really well to break up clumps (forks work best for this).
Pour pudding into 3 separate jars or (about 1/2 cup each) containers and top with puree (about 1/4 cup each). Mix well.
When you are ready to eat your pudding, crumble 1/2 of a granola bar and add it to the pudding. Enjoy!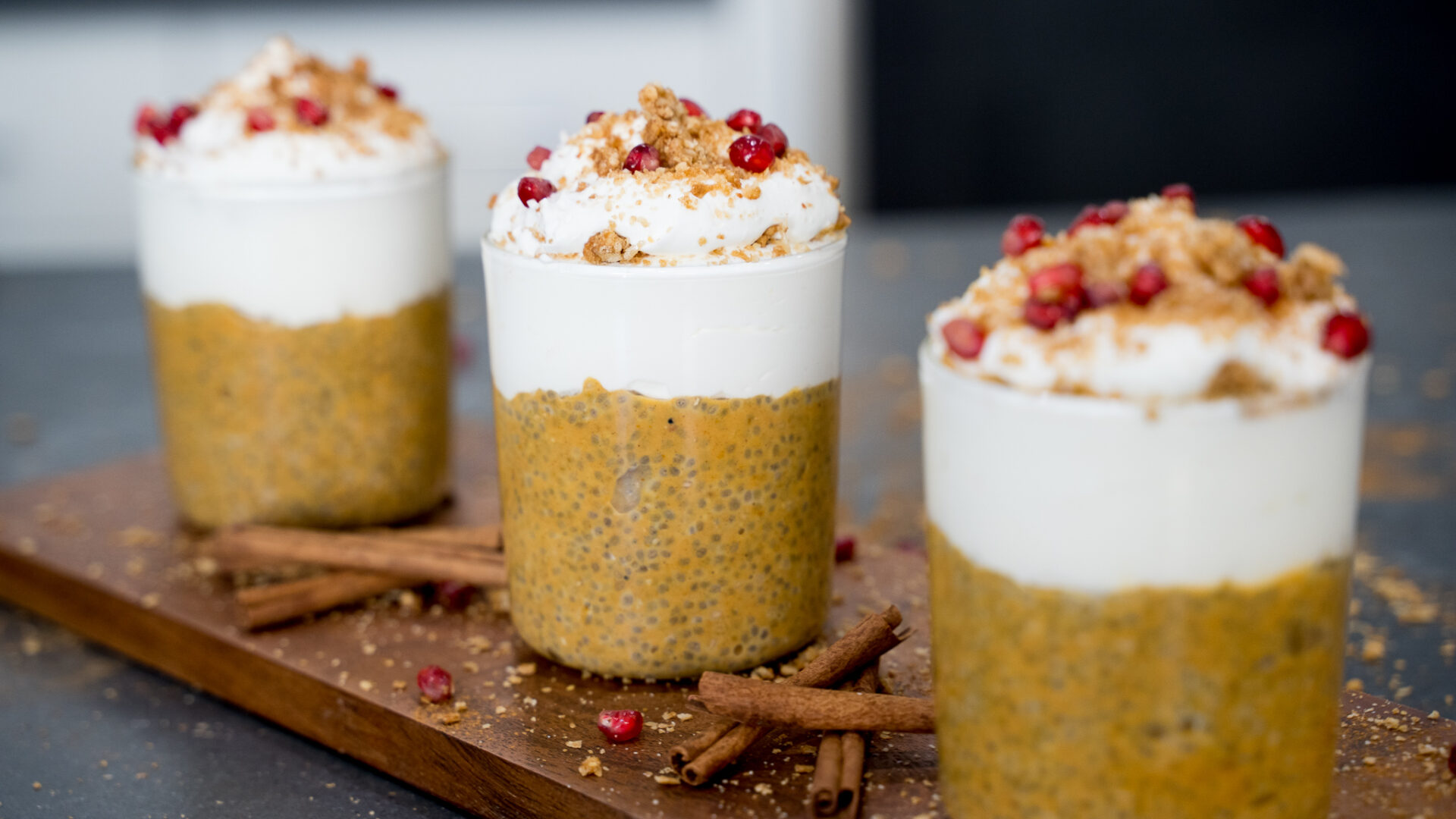 NUTRITION
274 calories; 9 g fat; 2.4 g saturated fat; 7 g protein; 39 g carbohydrates; 11 g fiber; 117 mg sodium; 282 mg calcium; 2.65 mg iron.