When your kids can't decide between pancakes or muffins for breakfast, here's how to make their day. Mix them up and create a kid-friendly foodie fusion they'll love.
Ingredients
canola oil pan spray
1 cup – whole-wheat pastry flour or white whole-wheat flour
2 teaspoons – baking powder
1/4 teaspoon – salt
1/4 teaspoon – cinnamon
3/4 cup – low-fat milk
2 – large eggs
2 tablespoons – real maple syrup (or use honey)
1/2 teaspoon – vanilla extract
2 tablespoons – melted coconut oil (or use canola oil)
1 – medium apple, peeled and grated (use a tangy-sweet variety, like Pink Lady or Gala)
DIRECTIONS
Preheat oven to 425°F. Coat muffin tin generously with pan oil spray or coconut oil.
Whisk flour, baking powder, salt and cinnamon in a medium bowl.
Pour the milk into a 2-cup measuring cup or bowl. Whisk the eggs, syrup and vanilla into the milk.
Add the milk mixture and coconut oil to the dry ingredients and stir with a whisk just until small lumps remain.* Do not over mix. Sprinkle in apples and gently stir a few times.
Using a scooper or measuring cup, fill the muffin tins about halfway with the batter. Bake on the middle oven rack until lightly golden, about 15 minutes.
Cool for a few minutes, and then cut around the edges of the muffins with a knife to release.
*Kitchen note: Be sure to have the grated apples prepared before combining the wet and dry ingredients. As with any pancake batter, it should be baked immediately to ensure adequate rising.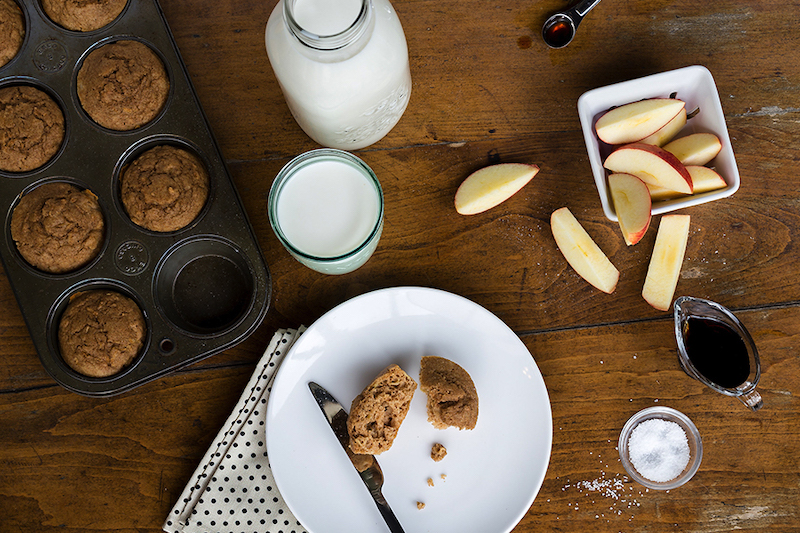 NUTRITION
165 calories; 7 g fat; 5 g saturated fat; 64 mg cholesterol; 5 g protein; 22 g carbohydrates; 2 g fiber; 320 mg sodium; 100 mg calcium.