Ingredients
2 – 10-inch whole wheat tortillas (taco size), warmed
1/4 cup – salsa, divided
1/4 cup – shredded pepper jack cheese, divided
1 teaspoon – vegetable oil
1/4 cup – sliced scallions (white and green parts only)
1/4 cup – red or green bell pepper, diced
4 – egg whites
2 tablespoons – low-fat or fat-free milk
Optional toppings:
reduced-fat sour cream
diced ripe avocado
diced tomatoes
DIRECTIONS
Preheat oven to 300°F.
Place the tortillas on a baking sheet and top with the salsa and cheese. Place the baking sheet in the oven and heat until cheese is melted and tortillas are pliable.
Meanwhile, heat oil in a small skillet over medium-high. Add the scallions and bell pepper and sauté until softened, stirring frequently, about 5 minutes. Beat the egg whites with the milk, pour into the skillet with the vegetables, and cook until just set, stirring occasionally. Divide egg whites between the warmed tortillas and roll up, burrito-style.
Serve with sour cream, avocado, and tomatoes on the side as desired. Pair with a glass of milk.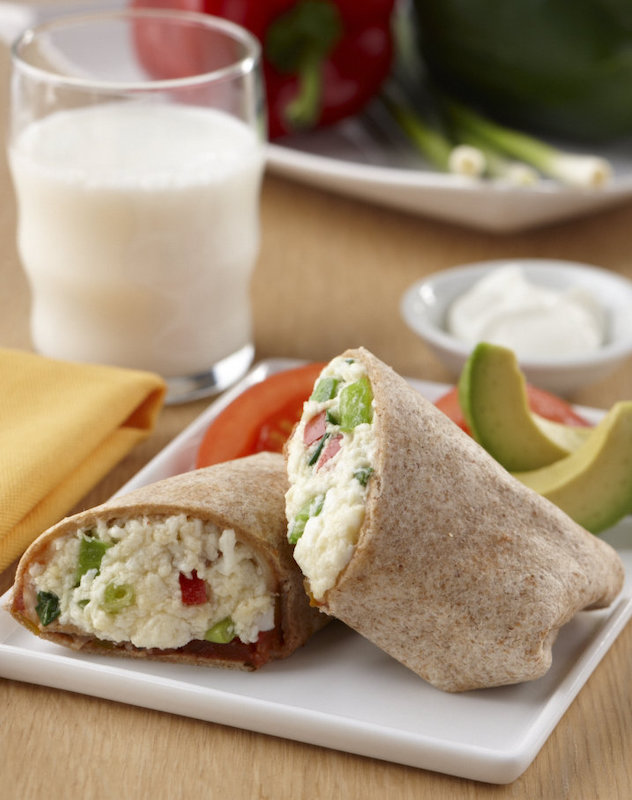 NUTRITION
220 calories; 7 g fat; 3.5 g saturated fat; 510 mg cholesterol; 15 g protein; 28 g carbohydrates; 3 fiber; 10 mg sodium; 150 mg calcium. Nutrition figures based on using fat-free milk.