Chilaquiles with Roasted Tomatillo Salsa
Breakfast
Say hola to your new favorite breakfast recipe. This meal of chilaquiles topped with homemade roasted tomatillo salsa turns the traditional tastes of Mexico into a flavorful dish the whole family will enjoy.
Ingredients
1 pound – tomatillos, husked and rinsed
1 – white onion, peeled and quartered
4 – garlic cloves
2 – serrano peppers, stems removed
1/4 teaspoon – ground cumin
handful – cilantro leaves
1 cup – unsalted chicken stock
2 tablespoons – all-purpose flour
pinch – salt
1 tablespoon – olive oil
8 – 6 inch corn tortillas
1 tablespoon – canola oil
3/4 cup – shredded Oaxaca cheese
1/3 cup – red onion, diced
3 – large eggs, cooked any style
1/2 cup – queso fresco, crumbled
Pair each serving with:
8-ounce glass of milk
DIRECTIONS
On a baking sheet, broil tomatillos, onion, garlic, and serrano peppers for 8 to 10 minutes. Transfer the roasted vegetables to a blender. Add cumin, cilantro, chicken stock, flour and salt to blender, and purée until smooth.
Heat olive oil in a large skillet. Pour in blended mixture, taking care not to splatter, and bring to a boil. Lower heat and simmer until thickened, about 6 to 8 minutes.
Cut corn tortillas into quarters. In a large skillet heat remaining oil and fry corn tortilla pieces until crunchy. Lower heat to low. Add sauce and mix only long enough to coat all the tortillas.
Top with shredded Oaxaca cheese while over low heat and cook just long enough for cheese to melt. Remove from heat and sprinkle with onions.
Serve with eggs cooked any style and top with crumbled queso fresco. Pair with 8-ounce glass of milk and enjoy!
Recipe and photo by Yvette Marquez-Sharpnack of Muy Bueno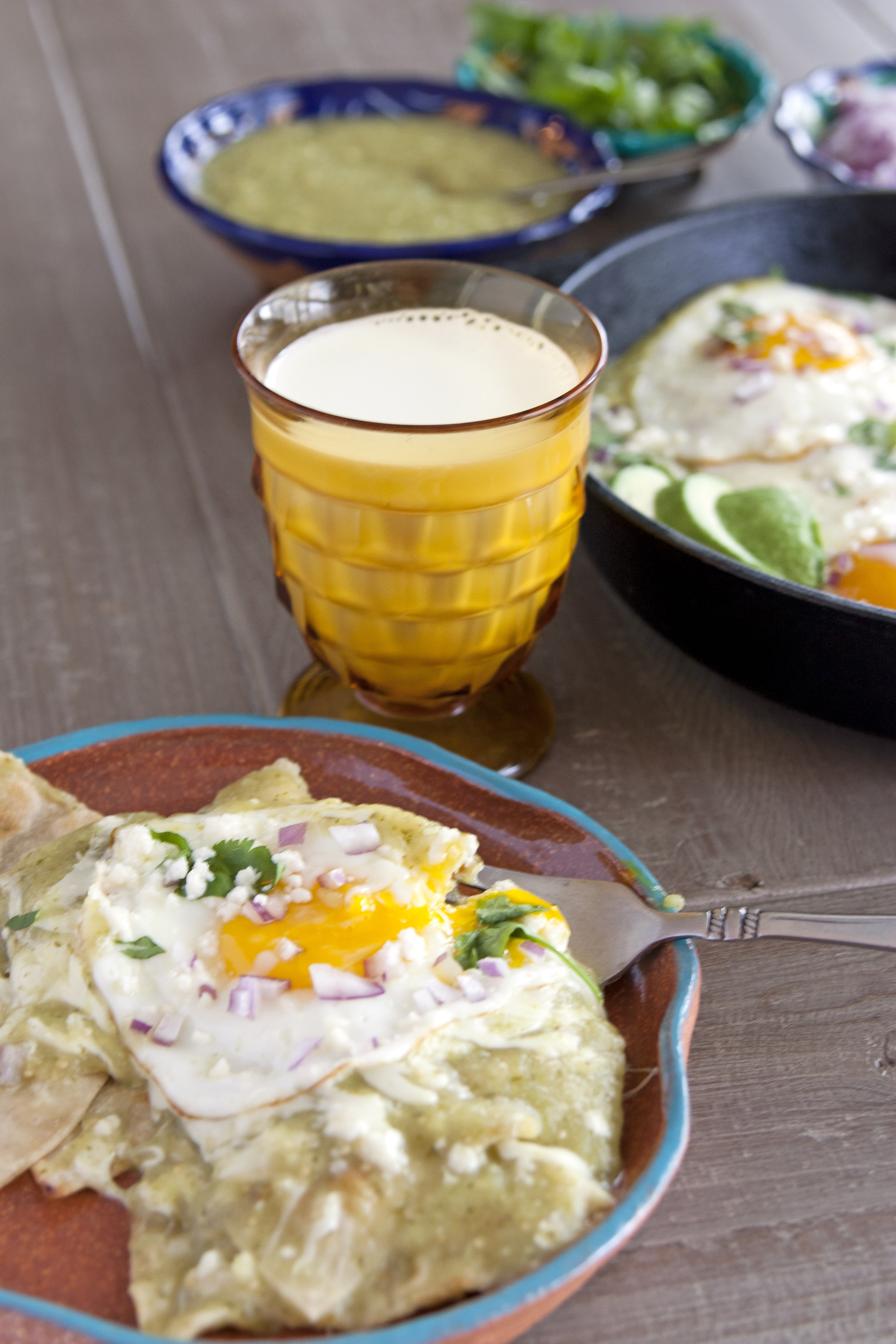 NUTRITION
490 calories; 21 g fat; 7 g saturated fat; 165 mg cholesterol; 26 g protein; 52 g carbohydrates; 6 g fiber; 470 mg sodium; 674 mg calcium. Nutrition figures based on using fat-free milk, and include an 8-ounce glass of milk. Nutrition figures may vary based on egg preparation method.