Ingredients
Donuts:
1 1/2 cups – white whole wheat flour
1/2 cup – sugar
1/4 cup – unsweetened cocoa powder
1/2 teaspoon – baking soda
1/2 teaspoon – ground cinnamon
1/2 teaspoon – ground cardamom
1/2 teaspoon – ground nutmeg
1/2 teaspoon – ground ginger
1/2 cup – plain fat-free Greek yogurt
1/3 cup – low-fat chocolate milk
1/4 cup – vegetable oil
1 – egg
1/2 teaspoon – vanilla extract
Chocolate Glaze:
3/4 cup – powdered sugar
1 tablespoon – unsweetened cocoa powder
2 tablespoons – low-fat chocolate milk
1/2 teaspoon – vanilla extract
Pair each serving with:
8-ounce glass of milk
DIRECTIONS
Preheat oven to 375°F. Coat a nonstick standard-size donut pan with non-stick spray.
Whisk together the flour, sugar, 1/4 cup cocoa powder, baking soda, and spices in a large bowl. In a small bowl whisk together the yogurt, 1/3 cup chocolate milk, vegetable oil, egg and vanilla extract.
Add the wet ingredients to the dry ingredients and stir until no flour remains. The batter will be thick.
Spoon the batter into a gallon-size resealable plastic bag. Cut a corner off of the bag and pipe the batter into the prepared pan.
Bake the donuts for 10 to 13 minutes or until they spring back when lightly touched. Remove the donuts from the oven and immediately turn them out of the pan onto a rack. Let cool while you prepare the glaze.
Whisk the powdered sugar, cocoa powder, chocolate milk, and vanilla extract in a small bowl. When the donuts are cool, drizzle the glaze over the donuts. Return the donuts to the rack to let the glaze set. Pair with remaining 8-ounce glass of fat-free white milk.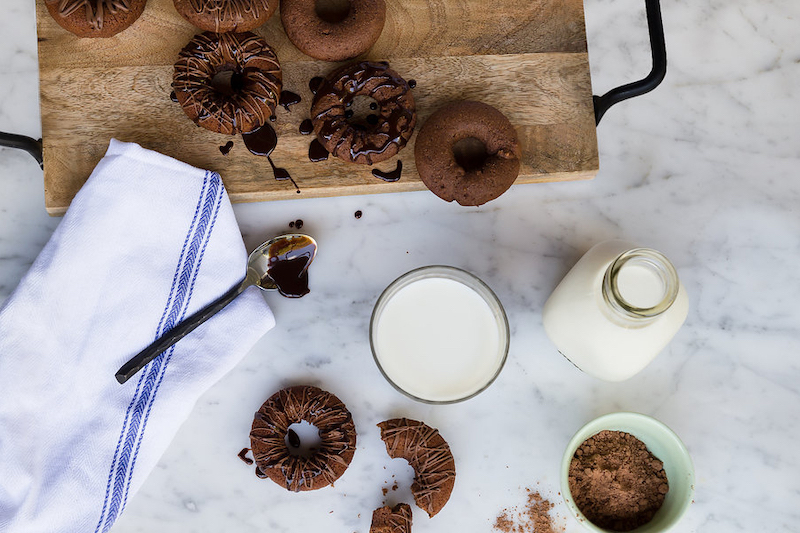 NUTRITION
320 calories; 8 g fat; 1.5 g saturated fat; 25 mg cholesterol; 14 g protein; 52 g carbohydrates; 3 g fiber; 190 mg sodium; 343 mg calcium. Nutrition figures include an 8-ounce glass of fat-free white milk.