These carrot cake muffins are a simple recipe idea for a bite-sized breakfast or snack. Kids will love the familiar taste, and you'll feel good knowing you're encouraging healthy eating habits. Serve with a glass of milk for an even greater nutritional punch!
Ingredients
non-stick coconut oil cooking spray
1 1/2 cup – oat bran
1 cup – fat-free milk
1 cup – whole wheat flour
2 teaspoons – baking powder
1 1/2 teaspoons – ground cinnamon
1/4 teaspoon – ground nutmeg
1/2 teaspoon – kosher salt
1 – large egg
2 tablespoons – coconut oil, melted
1 1/2 teaspoons – vanilla extract
2 tablespoons – molasses
2 tablespoons – honey
2 tablespoons – light brown sugar, packed
1 1/2 cups – shredded carrots (from about 2-3 large, peeled)
1/2 cup – raisins
Pair each serving with:
8-ounce glass of milk
DIRECTIONS
Preheat oven to 350°F and lightly coat all 24 cups of a mini muffin pan with a bit of non-stick coconut oil cooking spray.
In a small bowl, combine oat bran and 1 cup milk. Stir well and set aside to allow the bran to absorb the milk. In another bowl, combine whole wheat flour, baking powder, cinnamon, nutmeg and salt and whisk to combine.
In a third large bowl, whisk together egg, coconut oil, and vanilla extract just until combined, then stir in molasses, honey and brown sugar. Add both the bran and flour mixtures and stir until just incorporated. Lastly, fold in the shredded carrots and raisins.
Using a 1 1/2 tablespoon scoop, divide the batter into the oiled muffin cups. Bake until a toothpick inserted into the center comes out clean, about 11-13 minutes. Cool in the pan for a few minutes before carefully transferring to a wire rack. Repeat with any remaining batter.
Serve muffins with an 8-ounce glass of milk and enjoy! Remaining muffins can be stored in an airtight container on the counter for up to 4 days, or in the refrigerator for up to 1 week. Muffins can also be frozen and defrosted for a quick breakfast or snack in the future.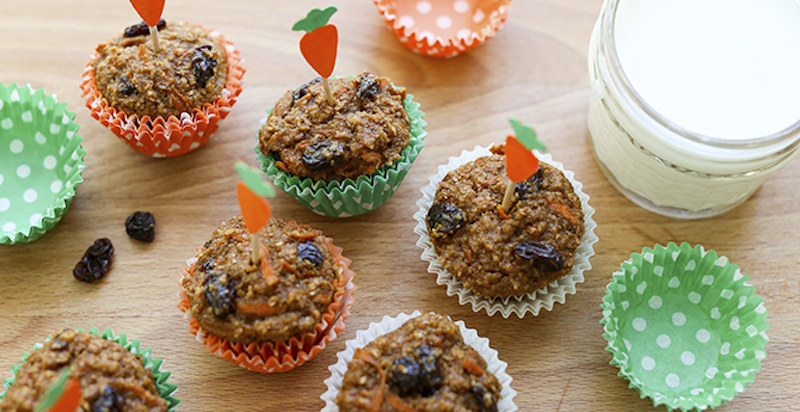 NUTRITION
310 calories; 6 g fat; 3.5 g saturated fat; 30 mg cholesterol; 15 g protein; 57 g carbohydrates;  6 g fiber; 390 mg sodium; 454 mg calcium. Nutrition figures based on using fat-free milk, and include an 8-ounce glass of fat-free milk.