This simple recipe for eggs in a nest is fun to make, kid-friendly, and it's a breakfast high in protein to boot. Start your day on the right foot with a balanced meal the whole family will enjoy—plus you can freeze them and eat them later.
Ingredients
non-stick olive oil spray
4 cups – frozen shredded potatoes, defrosted
3 – large eggs
3 – large egg whites
1/4 cup – fat-free milk
1/4 teaspoon – salt
1/8 teaspoon – pepper
1/3 cup – green bell pepper, diced
1/3 cup – tomatoes, chopped
spinach (optional)
mushroom (optional)
1/3 cup – cooked, lean ground turkey sausage, crumbled and patted to remove excess oil
1/3 cup – part skim mozzarella cheese, shredded
Pair each serving with:
8-ounce glass of milk
DIRECTIONS
Preheat oven to 400°F and liberally spray a 12-well muffin tin with non-stick olive oil.
Press a scoop of shredded potatoes into each muffin tin, pressing up and around the edges to create a "nest". Bake for 15-20 minutes or until lightly golden. Remove the pan from the oven and using a spoon, gently press any fallen potatoes back up against the sides of each muffin hole. Turn the oven heat down to 350°F.
In a bowl, add eggs, egg whites, 1/4 cup milk, salt and pepper. Whisk to combine and allow to sit in fridge while preparing green pepper, tomatoes or any additional vegetables desired, to allow the eggs to break down a little, and become fluffier.
Stir cooked meat and vegetables into the bowl with egg mixture and pour equally between all "nests." Sprinkle a pinch of cheese over each nest. Bake for 15-20 minutes or until egg is set.
Remove from oven and serve with an 8-ounce glass of milk. Enjoy!
Note: Nests can also be stored in airtight bags in fridge once cool for 3-4 days, and be reheated for an on the go breakfast, paired with an 8-ounce glass of milk.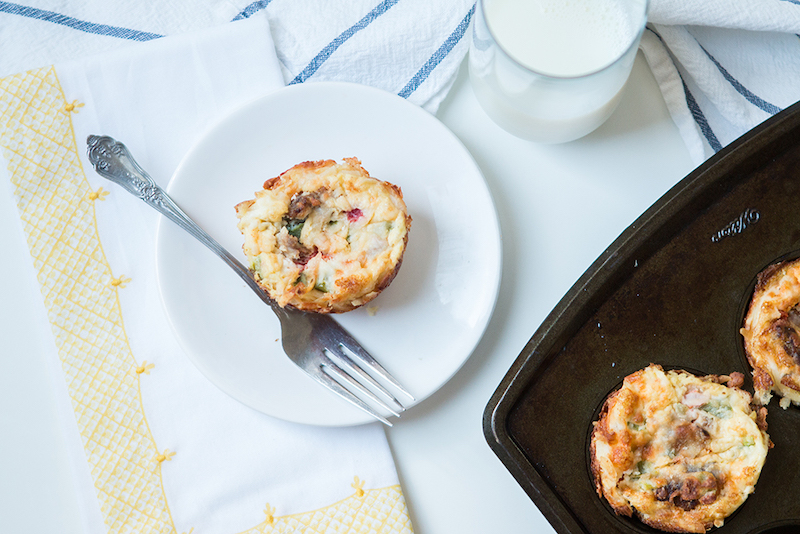 NUTRITION
200 calories; 4.5 g fat; 1.5 g saturated fat; 105 mg cholesterol; 17 g protein; 23 g carbohydrates; 1 g fiber; 510 mg sodium; 381 mg calcium. Nutrition figures based on using fat-free milk, and include an 8-ounce glass of fat-free milk.