When you want a family favorite for a morning meal, try this kid-friendly recipe for breakfast pizza. By swapping the tomato base with scrambled eggs and topping with green veggies, pizza for breakfast is an easy way to serve a traditional dinner for a delicious twist in the morning. For a bit of spice, top your slice with sriracha sauce. When you pair each serving with a glass of milk, you get 18 grams of protein in this breakfast recipe.
Ingredients
4 – eggs
2 tablespoons – fat-free milk
1 teaspoon – olive oil
1 cup – fresh asparagus, cut into 1-inch pieces
1 tablespoon – minced fresh chives or green onions
1 – 12" prepared whole wheat pizza crust
3/4 cup – shredded part-skim mozzarella cheese
1 cup – fresh arugula
Sriracha sauce (optional)
Pair each serving with:
8-ounce glass of milk
DIRECTIONS
Preheat oven to 425°F.
Whisk the eggs and 2 tablespoons milk together in a small bowl.
Coat a large non-stick skillet with cooking spray. Heat the pan and olive oil over medium heat. Add the asparagus and cook 3 to 5 minutes or until slightly softened.
Stir in the egg mixture and cook just until set, stirring frequently with a rubber spatula. Do not overcook. Remove skillet from the heat and fold in the chives.
To assemble the pizza, spoon the egg mixture onto the pizza crust. Sprinkle with the mozzarella and bake until cheese is melted, about 5 minutes.
To serve, top with arugula and drizzle with Sriracha sauce to taste. Cut into 6 wedges before serving with an 8-ounce glass of milk.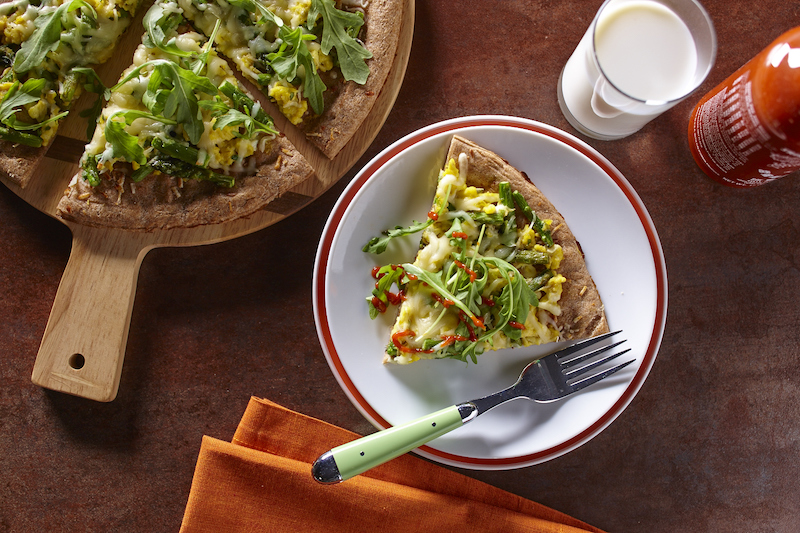 NUTRITION
210 calories; 7 g fat; 3 g saturated fat; 135 mg cholesterol; 18 g protein; 18 g carbohydrates; 1 g fiber; 280 mg sodium; 445 mg calcium. Nutrition figures based on using fat-free milk, and include an 8-ounce glass of milk.