When it's time to make the doughnuts, bake a batch of Sufganiyot. These sample-sized jelly-filled treats are a delicious Hanukkah breakfast tradition you can make your own.
Ingredients
1 1/2 cups – all-purpose flour, plus 2-3 tablespoons for kneading and rolling dough
1/4 cup – fine granulated sugar, plus 1/3 cup for coating
1/4 teaspoon – kosher salt
2 1/4 teaspoons – instant yeast
2/3 cup – milk, warmed to 120°F (about 55 seconds on high in the microwave if you don't have a thermometer)
3 tablespoons – canola or vegetable oil
2 – large egg yolks
3/4 teaspoon – pure vanilla extract
1 cup – 100% fruit raspberry jam, pureed if not completely smooth
1 1/2 tablespoons – salted butter, melted
2 tablespoons – powdered sugar (optional)
Pair each serving with:
8-ounce glass of milk
DIRECTIONS
In a large bowl, combine flour, 1/4 cup sugar, salt, and yeast. Stir in 2/3 cup warm milk until incorporated, then add oil, egg yolks & vanilla extract. Using a mixer, beat on high for 2 minutes. Scrape dough from mixing bowl onto a floured surface. Sprinkle with 1 tablespoon flour and knead about 50 times. The dough should begin to hold together and become soft. If it starts to feel sticky again, add just a bit more flour, 1 teaspoon at a time. Form dough into a ball, cover with plastic wrap or a tea towel and allow it to rest for 10 minutes.
Line a large baking sheet with parchment paper. On a floured surface, roll dough to 1/4-inch thick. Dip a 2-inch round cookie cutter in flour and cut the dough, dipping the cutter in flour each time to prevent sticking. Transfer dough rounds to prepared baking sheet. Re-roll dough scraps and the repeat until all of the dough has been used. Cover baking sheet with a towel and let donuts rise in a warm place. (At room temperature, the rising process can take up to 2 hours.) Donuts will be ready to bake when they have nearly doubled in size and look like puffy, uncooked biscuits.
About 20 minutes before donuts are done rising, preheat oven to 375°F. Bake for 8-10 minutes, or just until tops are a very light golden brown. While they bake, place the remaining 1/3 cup fine granulated sugar in a bowl with a relatively flat bottom and fill pastry bag with jam. Lay out another long sheet of parchment or wax paper for easy cleanup and melt the butter.
When done baking, immediately transfer donuts from the pan to parchment paper. Working one at a time, brush the top and sides of the donuts with melted butter and gently roll in the bowl of sugar, tapping off excess sugar. If sugar begins to clump on the donuts, place the butter back in the microwave for 10 seconds and continue. If desired, finish donuts with a light dusting of powdered sugar before filling. Fill the centers with jam using a pastry bag and a long, slender (Bismarck) tip.
Serve with an 8-ounce glass of milk.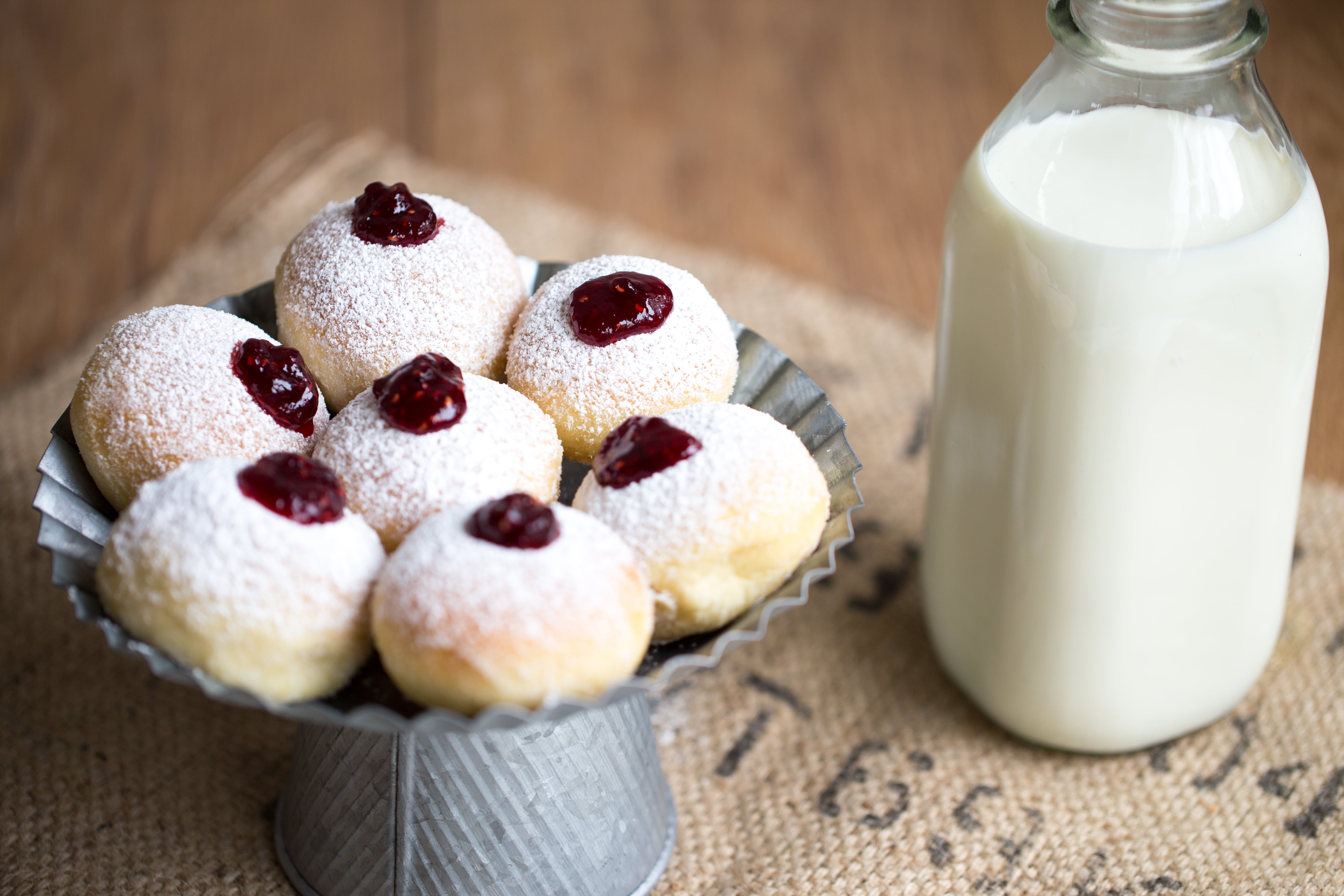 NUTRITION
210 calories; 3.5 g fat; 1 g saturated fat; 25 mg cholesterol; 10 g protein; 35 g carbohydrates; 0 g fiber; 140 mg sodium; 314 mg calcium. Nutrition figures based on using fat-free milk, and include an 8-ounce glass of milk.