Banana-Almond Butter Protein Pancakes
Breakfast
Ingredients
1 cup – white whole wheat flour
1 cup – fat-free milk
1 cup – plain fat-free Greek yogurt
2/3 – cup rolled oats
4 – egg whites
1 – very ripe banana, peeled
3 tablespoons – unsweetened almond butter
3 tablespoons – wheat germ
2 tablespoons – honey
1 teaspoon – vanilla extract
3/4 teaspoon – baking powder
1/4 teaspoon – kosher salt
non-stick cooking spray
maple syrup for serving (optional)
Pair each serving with:
8-ounce glass of milk
DIRECTIONS
Pulse all ingredients in a blender or food processor until batter forms. Preheat a non-stick griddle or skillet over medium heat; spray pan with non-stick cooking spray. When griddle is hot, pour batter onto surface using 1/4 cup measure.
Cook on one side until lightly golden on the bottom, then turn carefully and cook on the other side until golden and center is cooked through. Cook remaining batter in the same manner.
Serve warm with maple syrup (optional) and glass of milk.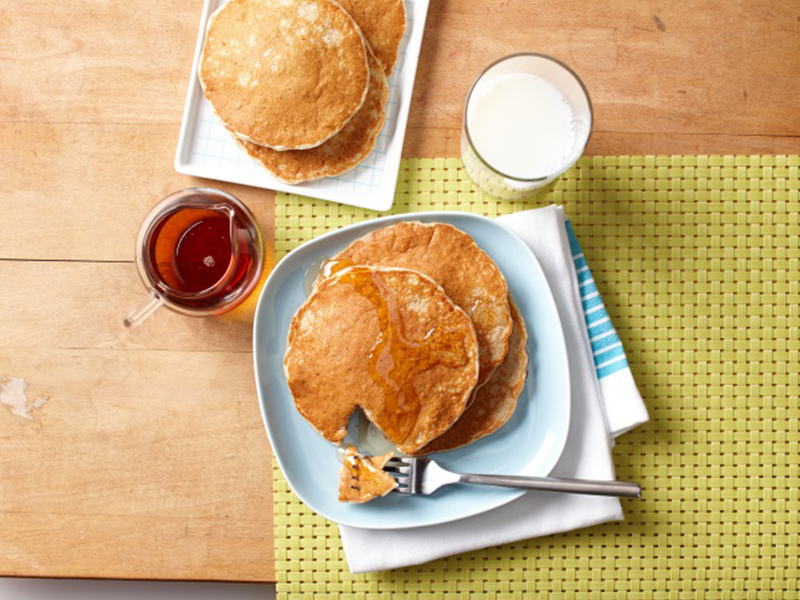 NUTRITION
390 calories; 8 g fat; 1 g saturated fat; 10 mg cholesterol; 25 g protein; 58 g carbohydrates; 6 fiber; 280 mg sodium; 487 mg calcium. Nutrition figures based on using fat-free milk, and include an 8-ounce glass of milk.