Ingredients
Blueberry Quinoa Pancakes:
1 cup – cooked quinoa
3/4 cup – all-purpose flour
2 teaspoons – baking powder
1 teaspoon – vanilla extract
2 tablespoons – granulated sugar
2 – large eggs
1/2 cup – milk
6 ounces – plain non-fat Greek yogurt
1/2 cup – fresh blueberries
maple syrup (optional)
Pair each serving with:
8-ounce glass of chocolate milk
Morning snack:
1 – medium apple
24 – almonds, unsalted
DIRECTIONS
In a medium bowl, mix together flour, baking powder and sugar. Set aside.
In a second bowl, mix the eggs, vanilla, Greek yogurt, and 1/2 cup milk together until well-combined. Add the flour mixture into the egg mixture and combine well. Fold the cooked quinoa in to the batter.
Preheat a skillet to medium heat. Place 1/4 cup batter in the hot skillet to make the pancakes, brown each side. Serve with fresh blueberries on top, an 8-ounce glass of chocolate milk and an optional drizzle of maple syrup.
Recipe and photo by Chrissy Taylor of The Taylor House
Enjoy a morning snack of 1 medium apple with 1 ounce almonds to help get 26 grams of protein before noon.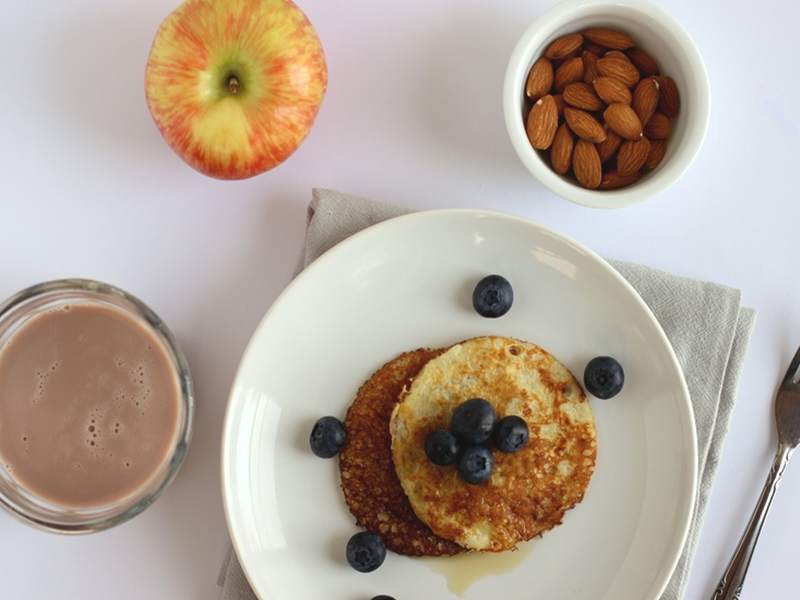 NUTRITION
Breakfast: 380 calories; 5 g fat; 2.5 g saturated fat; 85 mg cholesterol; 19 g protein; 64 g carbohydrates; 3 g fiber; 350 mg sodium; 514 mg calcium. Nutrition figures based on using low-fat chocolate milk, and include an 8-ounce glass of milk.
Morning snack: 260 calories; 15 g fat; 1 g saturated fat; 0 mg cholesterol; 7 g protein; 30 g carbohydrates; 7 g fiber; 5 mg sodium; 78 mg calcium (8% of daily value).