Try this tasty twist to add vegetables to your breakfast bowl. Zoats, a delicious mix of shredded zucchini and oatmeal, is an ingenious way to bring the fall harvest to your morning meal. Pair with an 8-ounce glass of milk and breakfast is served with 17 grams of protein.
Ingredients
1 cup – old-fashioned oats
1 1/2 cups – milk
1 teaspoon – cinnamon, divided
1/4 teaspoon – salt
1 cup – finely shredded zucchini (about 1 large)
1 tablespoon – unsalted butter
1 tablespoon – brown sugar, packed
1 – large, firm Bosc pear, peeled, cored and chopped into 1/4" thick slices
1/4 cup – pecan pieces
DIRECTIONS
In a small saucepan, combine oats, milk, 1/2 teaspoon cinnamon and salt over medium-low heat. Cook for 5 minutes stirring frequently. Add shredded zucchini and cook until liquid has been absorbed and oats are tender, about 4-5 more minutes.
While the oats cook, caramelize the pear and pecans. Melt butter in a small skillet over medium-low heat. Once it foams, add the brown sugar and remaining cinnamon. Stir well and cook until sugar is just dissolved, about 3 minutes. Immediately add pears and stir to coat. Cook pears for 6 minutes, stirring occasionally. Add the pecans and cook for 5 more minutes, stirring occasionally, until pears have a nice brown edge and pecans are a little bit sticky.
Divide the zoats into two bowls, top each with half of the caramelized pears and pecans and serve warm.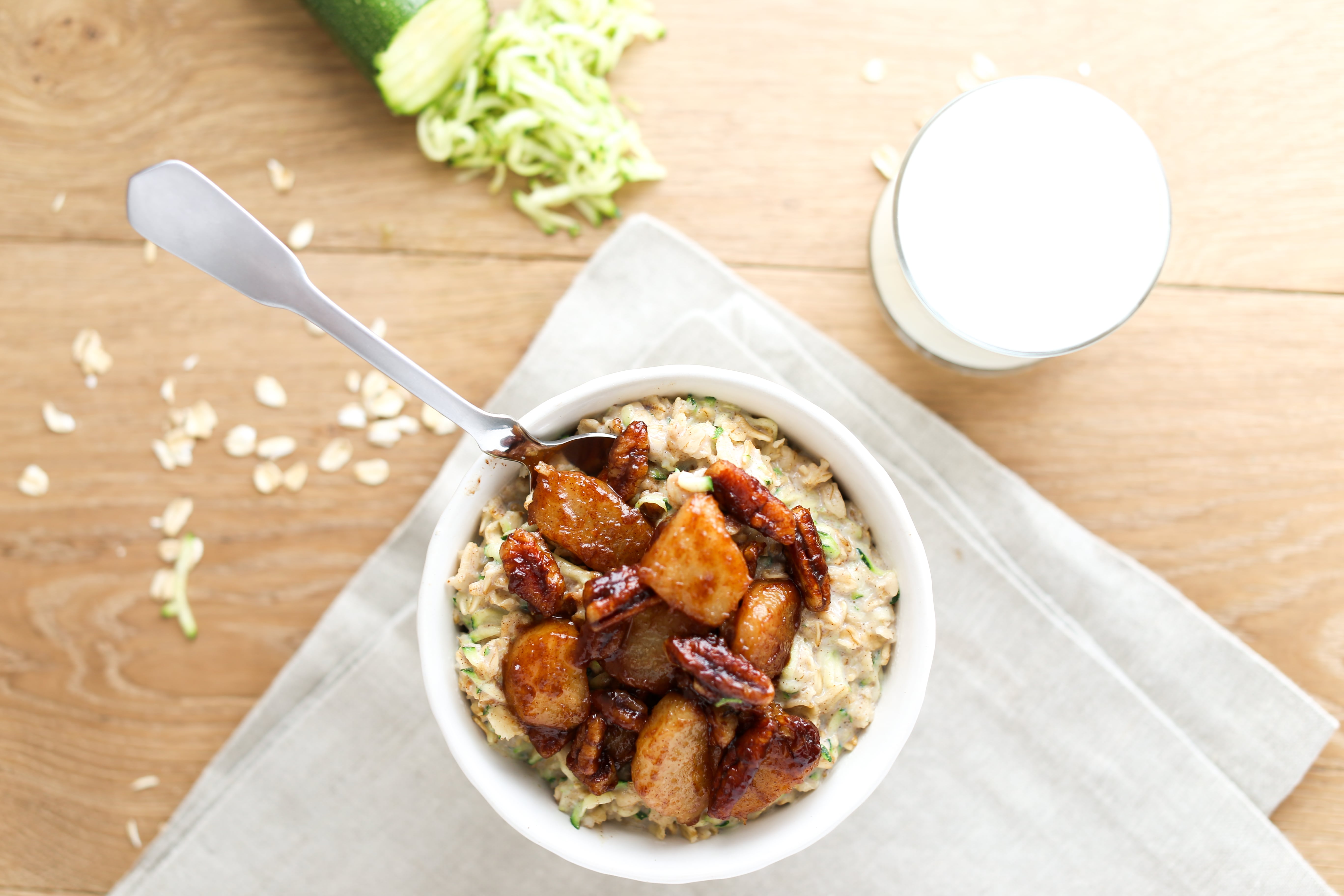 NUTRITION
500 calories; 19 g fat; 4.5 g saturated fat; 20 mg cholesterol; 17 g protein; 68g carbohydrates;  11 g fiber; 390 mg sodium; 312 mg calcium. Nutrition figures based on using fat-free milk.