Ingredients
1/2 cup (4 ounces) – chicken apple sausage, diced
1/4 cup – onion, diced
1/4 cup – red pepper, diced
1/4 cup – sweet potato, diced
4 – eggs
2 tablespoons – low-fat or fat-free milk
1/2 cup – fresh spinach leaves, chopped
salt and pepper
2 – whole wheat English muffins, split, toasted
DIRECTIONS
Coat a non-stick skillet with non-stick spray; heat over medium. Add the sausage, onion, red pepper, and sweet potato and cook, covered, stirring often, until vegetables are tender (test a chunk of sweet potato to be sure).
Meanwhile, beat eggs with milk in a small bowl until blended. When the vegetables are tender, transfer them to a plate. Return the skillet to the burner, add the egg mixture and cook, stirring often, until eggs are softly scrambled.
Off heat, stir in spinach, reserved sausage mixture, salt, and pepper. Serve immediately with a toasted English muffin half.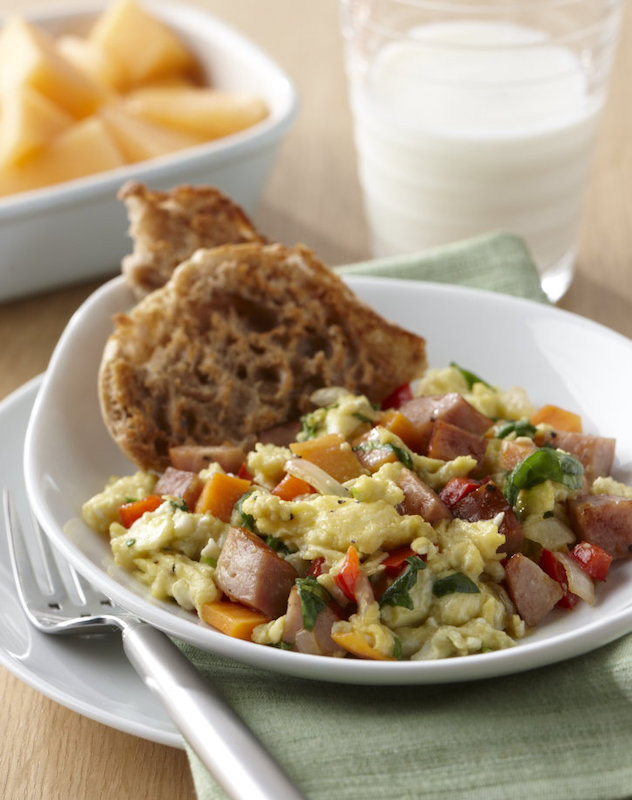 NUTRITION
210 calories; 10 g fat; 3 g saturated fat; 240 mg cholesterol; 14 g protein; 18 g carbohydrates; 3 fiber; 410 mg sodium; 60 mg calcium. Nutrition figures based on using fat-free milk.