The secret to the fluffiest cupcakes? Use milk instead of water! This year, create your own personalized Christmas Tree with this delicious cupcake recipe.
Ingredients
Cupcake Ingredients:
1 box – Funfetti cake mix (and everything it calls for)
1 cup – milk (substitute for water)
Frosting Ingredients + Toppings:
1 cup – butter
1/4 cup – milk
5 cups – powdered sugar
3 teaspoons – vanilla
green food coloring
24 – sugar ice cream cones
1 – piping bag
1 – star tip
DIRECTIONS
Make cupcakes according to box instructions, replacing the water for milk to make them extra fluffy. While the cupcakes are cooling, start the frosting.
In a stand mixer or using a hand mixer, whip the butter until it's fluffy. Add the vanilla and slowly add the powdered sugar and mix until combined. Gradually add in milk until desired consistency is formed. Transfer a small portion into a piping bag and then add green food coloring to the frosting to color the remaining frosting green. Transfer to a piping bag with a star tip.
Pipe a white circle around the rim of the cupcake. Holding an ice cream cone, cover the cone with green frosting and place it upside down onto the cupcake using the white frosting as glue to secure it.
Using the green frosting in the piping bag, squeeze small amounts all over the cone pulling outward to make tree like branches until the entire cone is covered.
Sift powdered sugar on the tops for fresh snow!
Enjoy!!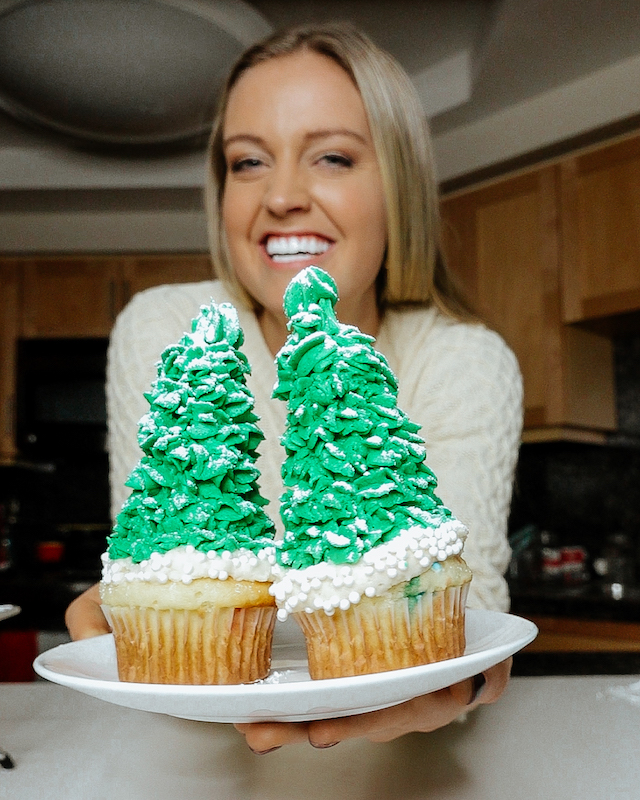 NUTRITION
420 calories; 18 g fat; 7 g saturated fat; 45 mg cholesterol; 4 g protein; 59 g carbohydrates; 0 g fiber; 240 mg sodium; 58 mg calcium. Nutrition figures based on using low-fat white milk and do not include optional ingredients.