Ingredients
2 cups – prepared pancake mix (regular or whole-grain)
1/2 cup – old-fashioned or quick-cooking oats (not instant)
2 tablespoons – brown sugar
1 teaspoon – ground cinnamon
1 1/4 cups – fat-free or low-fat milk
2 – eggs
2 tablespoons – butter
2 cups – granny smith apple, chopped
1 cup – maple syrup
1 teaspoon – vanilla extract
DIRECTIONS
Heat a griddle to 350°F. In a bowl, stir the pancake mix, oats, brown sugar, cinnamon, milk, and eggs together until blended (a few lumps are okay).
Lightly coat griddle with non-stick spray, then pour 1/3 cup batter per pancake onto griddle. When the pancakes appear dry on the edges and bubbles appear on the surface, turn over with a spatula and continue to cook until done. Serve warm with Apple-Maple Syrup.
Apple-Maple Syrup:
In a large skillet, melt the butter over medium heat. Add the apple and sauté, stirring often, until apples are soft but not mushy, about 3 minutes. Add the maple syrup, bring to a simmer, and remove from heat. Stir in the vanilla and keep warm until ready to serve the pancakes.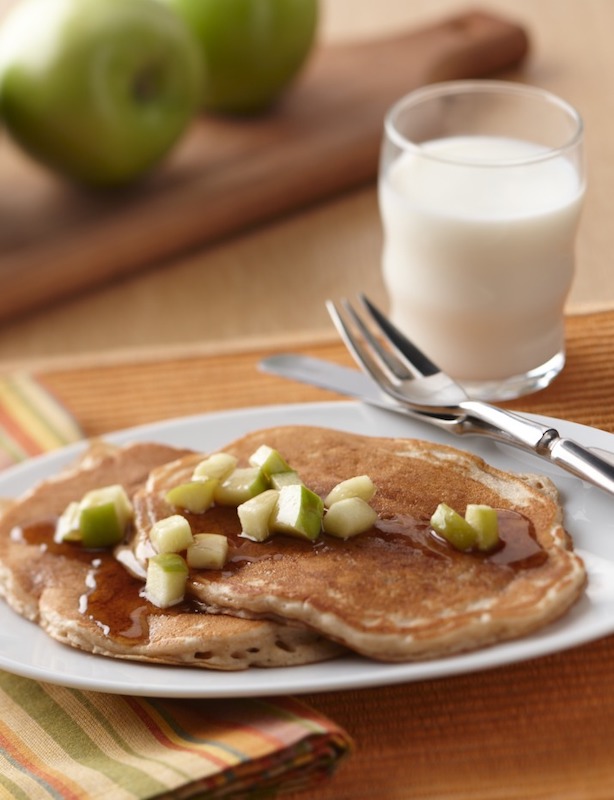 NUTRITION
430 calories; 6 g fat; 3 g saturated fat; 85 mg cholesterol; 9 g protein; 86 g carbohydrates; 3 g fiber; 810 mg sodium; 250 mg calcium. Nutrition figures based on using fat-free milk.