This southern speciality is perfect for breakfast, lunch, or dinner.
Recipe by Pro Basketball Player and Registered Dietitian Briana Butler
Ingredients
1 pound medium raw shrimp (peeled & deveined)
2 teaspoons blackening seasoning
1 teaspoon olive oil
1⁄2 cup diced yellow onions
1⁄2 cup chopped red bell peppers
1⁄2 cup chopped green bell peppers
1⁄2 cup chopped yellow bell peppers
14 1⁄2 ounces canned diced tomatoes
1 cup grits
1 cup water
3 cups milk, 2% fat
1⁄2 tablespoon salted butter
1⁄4 teaspoon salt
2 chopped green onions
2 cloves of garlic
DIRECTIONS
Shrimp & Grits
In a large bowl, season shrimp with blackening seasoning and set aside.
In a medium skillet, heat olive oil over medium-high heat.
Add in garlic, bell peppers and onion, and saute until tender. Set aside.
Add shrimp to the pan and toss until thoroughly cooked.
Add in onion mixture and strained diced tomatoes. Cover and simmer for about 10 minutes, uncover and simmer for 5 more minutes.
Boil water and milk in a large sauce pot.
Once boiling, add in grits, reduce heat and cook until desired thickness, stirring occasionally.
Once cooked, remove the grits from the heat and stir in the butter and salt.
Top with shrimp mixture and green onion, and enjoy!
Tips
Traditional shrimp and grits may also have bacon; you could always add a bit on top to fulfill that extra flavor component.
This tastes best hot off the stove, but if you plan to eat it a bit later, be sure to remove the grits from the pot and transfer them to a bowl. That way they won't be too thick!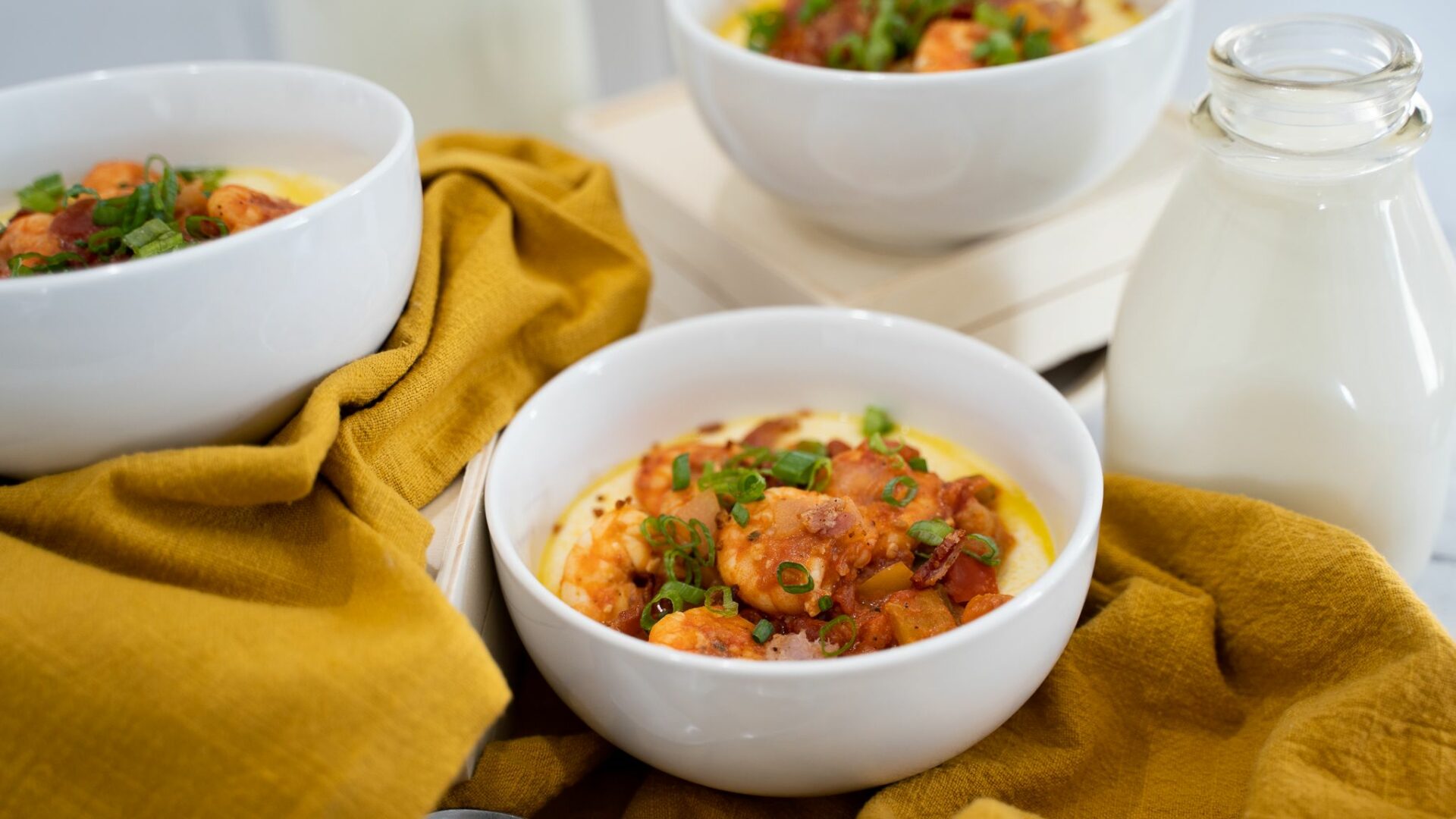 NUTRITION
Protein 33g, Total Fat 7.2g, Carbs 47g, Calories 377kcal, Fiber 5.4g, Calcium 330mg, Iron 2.63mg, Folate 67DFE, Fruits 0 servings, Vegetables 1.41 servings, Saturated Fat 3.43g, Sodium 878mg, Added Sugar 0g.