Lemon-Blueberry Buckwheat Ricotta Pancakes
Breakfast
Turns out buckwheat isn't actually a grain, but a fruit seed related to rhubarb. Adding it to this recipe makes for a tasty twist on traditional pancakes. Mix with your favorite berry, lemon and ricotta cheese for a delectable breakfast – or brunch! – the entire family will love.
Ingredients
2 – large eggs
1 1/2 tablespoons – granulated sugar
2 tablespoons – lemon juice (from 1 lemon)
1 tablespoon – lemon zest
3/4 cup – part-skim ricotta cheese
1 cup – fat-free milk
3/4 cup – all-purpose flour
3/4 cup – buckwheat flour
2 teaspoons – baking powder
1 teaspoon – baking soda
1 cup – fresh or defrosted blueberries
non-stick cooking spray
pure maple syrup (optional)
unsalted butter (optional)
Pair each serving with:
8-ounce glass of milk
DIRECTIONS
Heat a non-stick skillet or griddle pan over medium-low heat. In a large bowl, whisk eggs, sugar, lemon juice, and lemon zest together until frothy, about 30 seconds. Whisk in ricotta cheese and 1 cup milk and let stand for a few minutes.
While waiting, combine all-purpose flour, buckwheat flour, baking powder and baking soda in a separate bowl and mix until incorporated. Add flour mixture and blueberries to ricotta-milk mixture and stir until just combined.
Lightly grease preheated griddle or non-stick skillet with cooking spray. For each pancake, pour 1/4 cup batter onto hot skillet or griddle and cook until evenly brown, about 2-4 minutes. Flip and cook until evenly golden on other side. Repeat with remaining batter, greasing skillet or griddle as needed between batches. Top with pure maple syrup and butter, if desired.
Serve with an 8-ounce glass of milk. Enjoy!
Recipe and photo by Elle Penner of According to Elle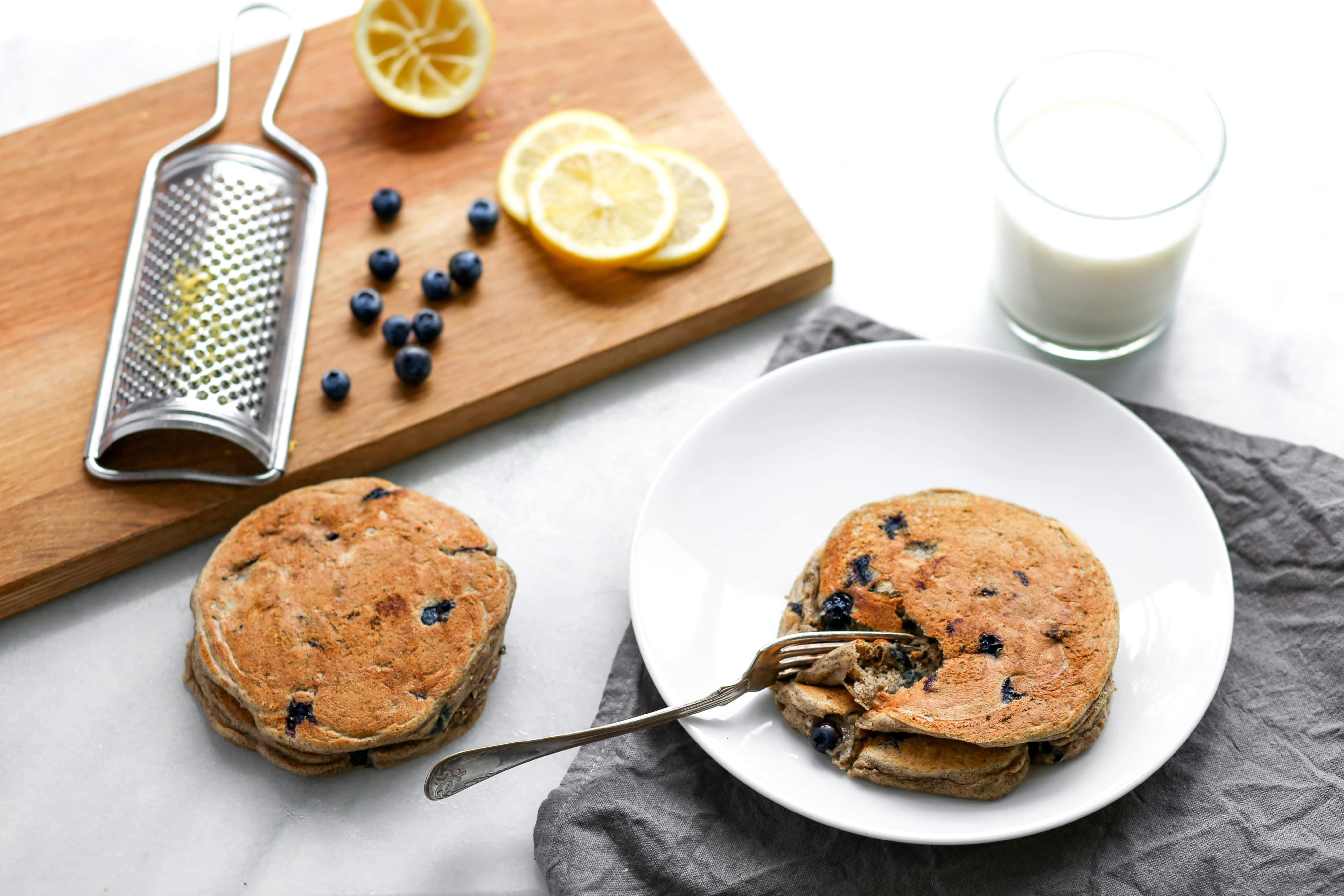 NUTRITION
260 calories; 4 g fat; 2 g saturated fat; 70 mg cholesterol; 17 g protein; 41 g carbohydrates; 2 g fiber; 490 mg sodium; 510 mg calcium. Nutrition figures based on using fat-free milk, and include an 8-ounce glass of milk.