Raspberry Cottage Cheese Protein Pancakes
Breakfast
While cottage cheese is not a traditional ingredient in pancakes, this protein pancakes recipe combines blended cottage cheese with rolled oats to add more protein at breakfast. Top with raspberries and these protein pancakes are a surefire way to excite your family about a high protein breakfast recipe. When you pair these protein pancakes with a glass of milk, you serve up 31 grams of protein in the morning. Many experts now recommend getting between 25 to 30 grams at every meal, especially breakfast — and raspberry pancakes with milk are a tasty way to hit that range in the morning.
Ingredients
1 cup – whole fresh raspberries
1 1/2 cups – small curd low-fat cottage cheese
2 cups – old fashioned rolled oats
2 – large eggs
3 tablespoons – granulated sugar
1 teaspoon – ground cinnamon
1 teaspoon – vanilla extract
3/4 cup – milk
powdered sugar, honey, additional raspberries (optional)
Pair each serving with:
8-ounce glass of milk
DIRECTIONS
In a small bowl, slightly mash raspberries with a fork. Preheat a large skillet or griddle to medium heat (275°F). In a large bowl combine cottage cheese, oats, eggs, sugar, cinnamon, and vanilla and mix to combine.
Transfer mixture to a blender along with 3/4 cup milk, blend until smooth. Gently stir in mashed raspberries. Lightly grease preheated skillet. Pour 1/3 cup of the pancake batter onto the skillet. Allow to cook for 2-3 minutes until bubbles begin to form around the edges. Flip and allow to cook 1-2 more minutes until cooked through. Repeat with remaining batter.
Serve pancakes warm along with remaining 8-ounce glass of milk. Top with additional berries, powdered sugar, and honey if desired.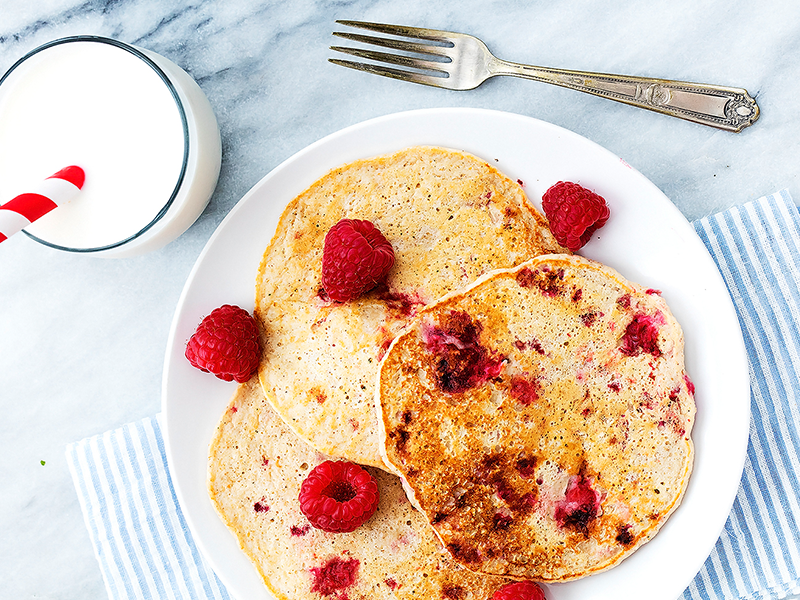 NUTRITION
410 calories; 6 g fat; 1.5 g saturated fat; 100 mg cholesterol; 31 g protein; 58 g carbohydrates; 6 g fiber; 500 mg sodium; 455 mg calcium. Nutrition figures based on using fat-free milk, and include an 8-ounce glass of milk.