A must-have in every Mexican bakery and the most popular pan dulce (sweet bread), Conchas are sweet and soft buns with a sugar shell pattern crust on the top (shell means concha in Spanish). A Mexican best-seller, it's a favorite for breakfast, a snack or with a yummy glass of milk before going to bed. And of course, dunking them in your coffee, hot chocolate or a glass of milk is always a good call.
Ingredients
Bread:
2 1/2 teaspoons – dry yeast
1/2 cup – warm water
1/2 cup – whole milk
1/2 cup – refined sugar
1/2 cup – unsalted butter at room temperature
1/2 teaspoon – salt
2 – eggs
4 cups – wheat flour
1/2 teaspoon – ground cinnamon
Topping:
2/3 cup – refined sugar
1/2 cup – unsalted butter
1 cup – wheat flour
1 tablespoon – cocoa
1 teaspoon – vanilla extract
DIRECTIONS
Directions for Bread:
Dissolve the yeast in the water in a large bowl. Add milk, sugar, butter, salt, eggs and 2 cups of flour. Mix with a spatula. Gradually add the 2 cups of remaining flour and cinnamon.
Put on a floured surface and knead only until a dough forms, about 8 minutes. The dough will be smooth and elastic.
Place in a bowl greased with butter, and grease the dough with butter as well. Cover with a towel and let stand at room temperature until it doubles in size, about 1 hour.
When the dough has doubled its volume, cut into 12 pieces of the same size. Form balls and arrange in a greased tray, leaving space between them.
Directions for Topping:
In a separate bowl, beat together the sugar and 1/2 cup of butter. Stir in the flour and continue beating until the mixture forms a thick paste. Divide the topping into 2 portions and place each one in a separate bowl. Mix the vanilla with one portion and the cocoa with the other.
Divide each portion into 6 balls. Flatten each ball with your hands or a tortilla maker, and place each on its own ball of bread dough, pressing gently to flatten the dough a little. With the help of a knife, mark lines in the cover, similar to those of seashells. Cover and let the bread again double in volume for approximately 45 minutes.
Preheat the oven to 350°F. Bake for 20 minutes or until they take a slightly golden tone.
Enjoy them with a delicious glass of milk.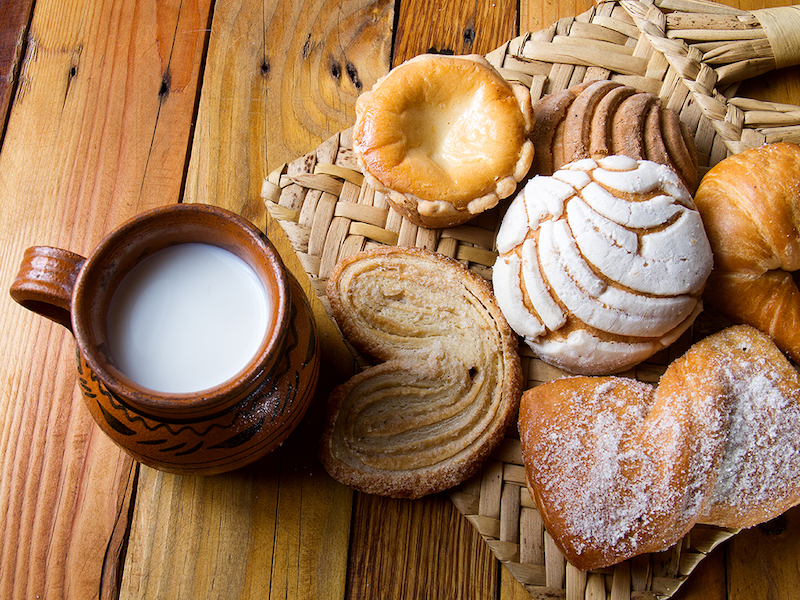 NUTRITION
520 calories; 20 g fat; 12 g saturated fat; 80 mg cholesterol; 15 g protein;73 g carbohydrates; 2 g fiber; 230 mg sodium; 332 mg calcium. Nutrition figures include an 8-ounce glass of low-fat milk.