The whole family will go bananas for these pancakes!
Ingredients
8 ounces – cottage cheese
2 cups – all-purpose flour
1 1/2 tablespoons – brown sugar (dark or light)
1 1/2 teaspoons – baking powder
1 teaspoon – baking soda
1 teaspoon – salt
1 cup –milk
2 – eggs
1 tablespoon – vanilla paste
1 teaspoon – ground nutmeg
1/2 teaspoon – ground ginger
1/2 stick – butter (for cooking)
DIRECTIONS
Mix together all dry pancake ingredients in one bowl and mix together all wet pancake ingredients in another bowl. Incorporate the wet into the dry and mix thoroughly, let it rest for 10 minutes.
On medium heat, add a dab of butter to skillet and ladle 4 ounces (approximately) of batter and flip when you see the bubbles on the surface, about 3-4 minutes.
Serve with banana slices, and syrup of choice or cajeta caramel.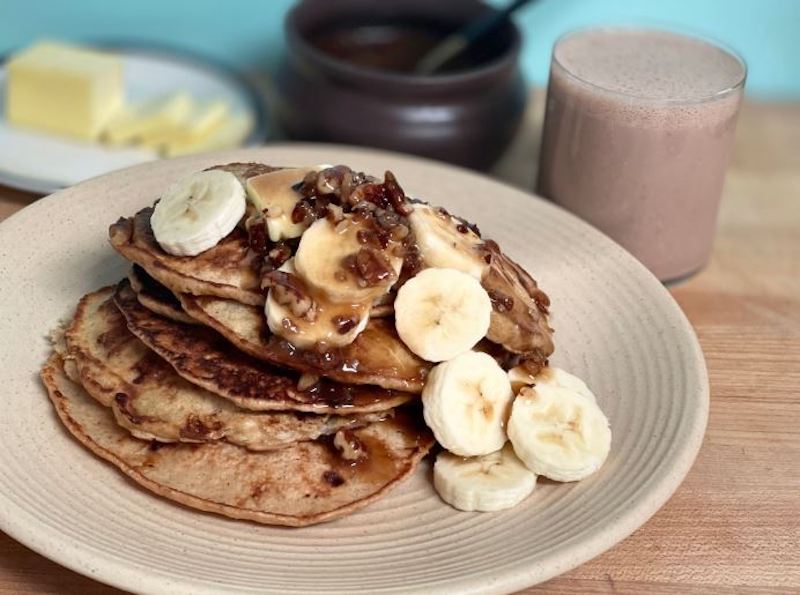 NUTRITION
180 calories; 6 g fat; 3.5 g saturated fat; 50 mg cholesterol; 7 g protein; 25 g carbohydrates; 1 g fiber; 290 mg sodium; 108 mg calcium. Nutrition figures based on using low-fat white milk and do not include optional ingredients.
Recipe & photo by: Chef Claudette Zepeda