Ingredients
8 ounces – turkey Italian sausage, casings removed
2 cups – egg substitute
1 cup – fat-free milk
1/2 cup – (2 ounces) shredded Cheddar cheese
1/2 teaspoon – dry mustard
1/4 teaspoon – salt
1/8 teaspoon – pepper
6 – (1-ounce) slices whole wheat bread, cut into 1/2-inch cubes
cooking spray
DIRECTIONS
Cook sausage in a non-stick skillet over medium-high heat until browned, stirring to crumble.
Combine egg substitute and next 5 ingredients in a medium bowl; stir well with a whisk. Stir in sausage and bread cubes.
Pour mixture into an 11×7-inch baking dish coated with cooking spray; cover and chill at least 8 hours.
Preheat oven to 350°F. Bake uncovered for 45 minutes or until set and lightly browned. Cut into 6 squares.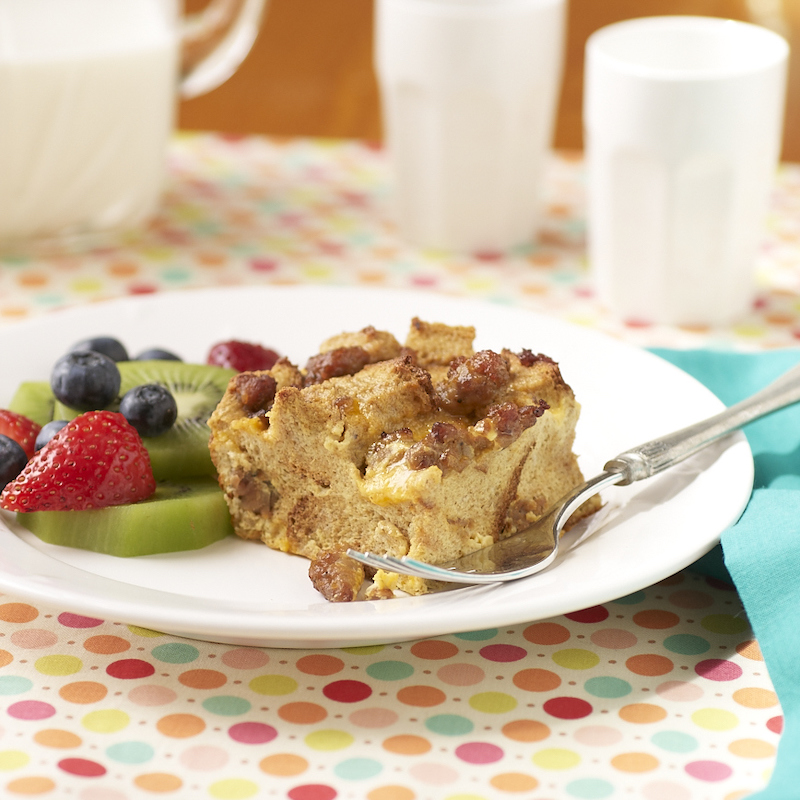 NUTRITION
260 calories; 11g fat; 4g saturated fat; 35mg cholesterol; 23g protein; 17g carbohydrates; 2g fiber; 710mg sodium; 160mg calcium. Nutrition figures based on using fat-free milk.