Ingredients
1 tube – refrigerated pizza dough (11 ounces)
1 cup – chopped fresh tomatoes
1 tablespoon – olive oil
1 tablespoon – red wine vinegar
1/2 teaspoon – dried oregano
sprinkle – salt & black pepper
1 cup – fresh spinach leaves, finely chopped
1 cup – fresh sweet red pepper strips
1/3 cup – crumbled feta cheese (1 1/2 ounces)
4 – eggs
DIRECTIONS
Preheat oven to 450°F. Lightly coat 2 large baking sheets with non-stick spray.
Unroll pizza crust onto a work surface and cut into 4 equal pieces. Place two pieces on each of the baking sheets and turn each corner up vertically toward the center to form a diamond shape (this helps prevent the egg from running onto the baking sheet). Bake for 8 minutes.
Toss tomatoes, olive oil, vinegar, oregano, salt, and pepper together in a small bowl; set aside. Prepare spinach, red pepper strips, and feta, placing each in its own bowl. Set aside.
Remove pizza crusts from the oven and brush lightly with olive oil. Top each crust with about 1/4 cup of the tomato mixture (drain off as much juice as you can), followed by 1/4 cup spinach. With your fingers, create a well in the center of the tomatoes and spinach. Carefully crack an egg into the well you just formed, then top with some of the pepper strips, and feta. Sprinkle eggs with additional pepper.
Bake pizzas for 10 minutes or until eggs are set to your liking. Serve immediately, and grab a glass of milk to wash it down!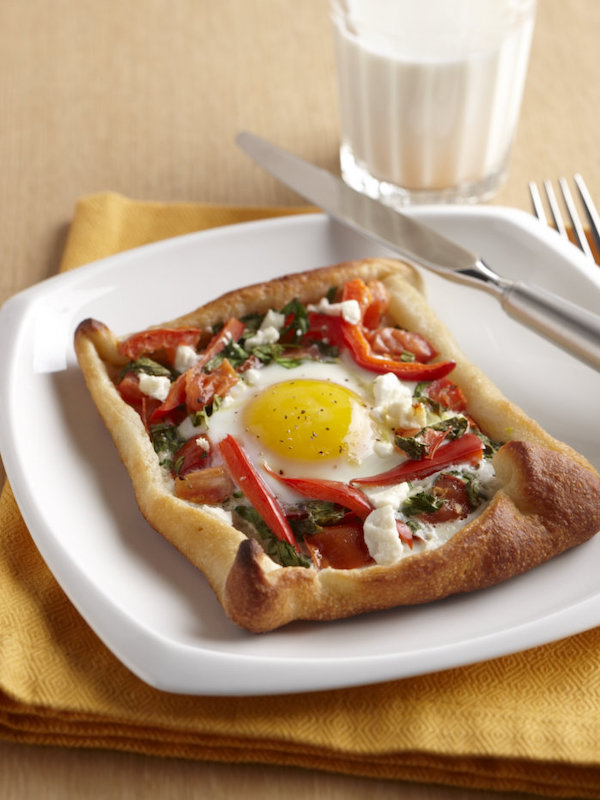 NUTRITION
310 calories; 13 g fat; 3.5 g saturated fat; 225 mg cholesterol; 13 g protein; 39 g carbohydrates; 2 g fiber; 550 mg sodium; 150 mg calcium.