Fruit Salad with Honey Lime Poppy Seed Dressing
Breakfast
Heading to a summer gathering? Follow this simple recipe for a fruit salad with honey lime poppy seed dressing that is sure to please the crowd at your next cookout. It features star-shaped fruit for a patriotic twist, it looks just as good as it tastes!
Ingredients
4 – medium Fuji apples, cored and thinly sliced into rings
2 cups – strawberries, halved
2 cups – raspberries
2 cups – blueberries
1 cup – bananas, sliced
1/3 cup – cooked quinoa
1/2 cup – walnuts, chopped
Dressing:
1/3 cup – fat-free milk
1/4 cup – reduced-fat mayo
4 tablespoons – fat-free plain Greek yogurt
1 tablespoon – apple cider vinegar
1 tablespoon – granulated sugar
2 tablespoons – honey
1 tablespoon – lime juice (or juice of 1 lime)
1 teaspoon – zest of 2 limes
3 teaspoons – poppy seeds
Pair each serving with:
8-ounce glass of milk
DIRECTIONS
Using a 1-inch star-shaped cookie cutter, cut apple slices into stars. Dice remaining apple pieces (about 1/4 cups worth). Add apple stars, apple cubes, strawberry halves, raspberries, blueberries, banana slices, quinoa and walnuts to a large bowl and stir to combine.
In a medium bowl, whisk together all dressing ingredients until smooth. Pour over fruit and nuts and toss to combine. Cover and chill for 30 minutes to an hour before serving. Pair each serving with 8-ounce glass of milk.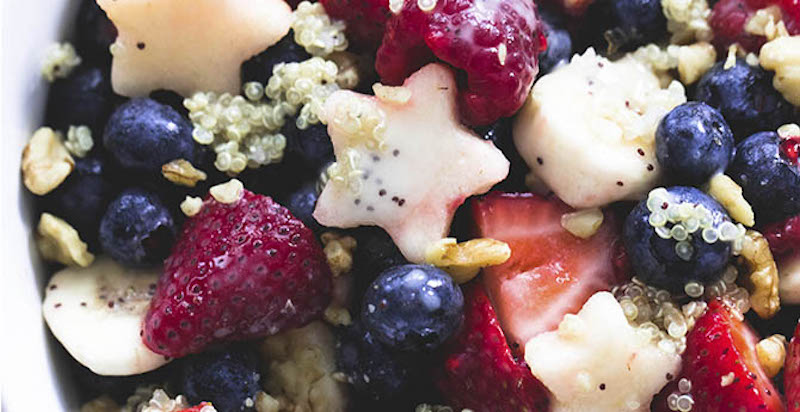 NUTRITION
240 calories; 5 g fat; 0.5 g saturated fat; 5 mg cholesterol; 11 g protein; 39 g carbohydrates;  5 g fiber; 150 mg sodium; 345 mg calcium. Nutrition figures based on using fat-free milk.