The warm, subtle flavor of gingerbread is a holiday classic. For the perfect wintertime treat, try these homemade whoopie pies: two savory gingerbread cookies with a sweet, fluffy cream filling.
Ingredients
1/2 cup – milk
1 teaspoon – distilled vinegar
2 1/4 cups – all-purpose flour
1/2 teaspoon – salt
1 teaspoon – baking powder
1/4 teaspoon – baking soda
1 1/2 teaspoons – ground ginger
1 teaspoon – ground cinnamon
1/4 teaspoon – ground cloves
1/2 cup – unsalted butter, softened
1/4 cup – brown sugar, packed
1 – large egg
3/4 cup – molasses
For the Filling:
1/2 cup – unsalted butter, softened
2 ounces – cream cheese, softened
2 cups – powdered sugar
1/2 teaspoon – vanilla
1/4 teaspoon – ground cinnamon
2 cups – marshmallow cream
1-3 tablespoons – milk (optional)
Pair each serving with:
8-ounce glass of milk
DIRECTIONS
Preheat oven to 375°F and lightly grease a baking sheet. In a bowl or liquid measuring cup, combine 1/2 cup milk and vinegar and set aside.
In a medium bowl whisk together flour, salt, baking powder, baking soda, ground ginger, ground cinnamon, and ground cloves. In a large bowl cream together butter and brown sugar until light and fluffy. Beat in the egg. Add dry ingredients to wet ingredients and mix until just combined. Mix in molasses and milk and vinegar mixture.
Use a cookie scoop or tablespoon to drop scoops of cookie dough onto prepared baking sheet. Leave 2 inches between each cookie dough scoop. Bake until cookies are puffy and set, about 10-14 minutes. Repeat with remaining cookie dough and allow cookies to cool completely.
Prepare the filling by creaming together butter and cream cheese until fluffy. Add powdered sugar and mix on high speed for 4-5 minutes. Mix in vanilla, ground cinnamon, and marshmallow cream. If needed to make a smooth and fluffy consistency, mix in 1-3 tablespoons milk.
Make whoopie pies by spreading filling between two cookies. Serve immediately or store refrigerated in airtight container up to 3 days. Allow to come to room temperature before serving. Serve with an 8-ounce glass of milk.
Recipe & photos by Tiffany Azure of Creme de la Crumb.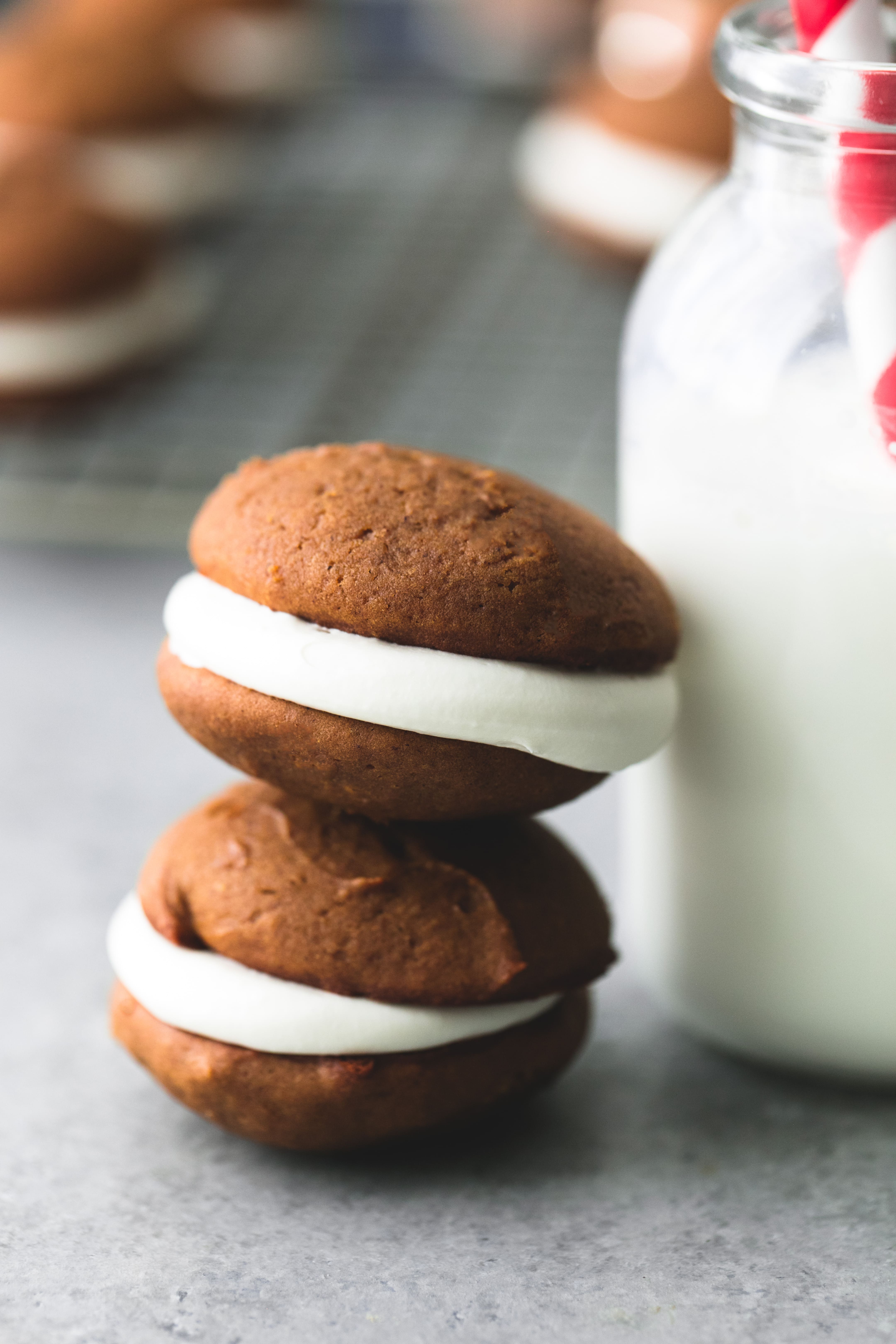 NUTRITION
270 calories; 8 g fat; 4.5 g saturated fat; 30 mg cholesterol; 10 g protein; 43 g carbohydrates; 0 g fiber; 200 mg sodium; 342 mg calcium. Nutrition figures based on using fat-free milk, and include an 8-ounce glass of milk.