Looking for a simple seasonal snack idea? Try these Harvest Fruit and Oat Bites, which feature fall flavors like apple pie spice and nuts, served with a glass of milk. They're easy to make ahead and serve up once the kids get home on the school or take with you on the go—the perfect way for busy families to fuel up.
Ingredients
1/2 cup – milk
1 1/2 cups – rolled oats, divided
2 tablespoons – almond nut butter
2/3 cup – dried apple rings, chopped (soft variety, not chips)
1/2 teaspoon – apple pie spice
pinch of salt
1/4 cup – dried cranberries or dried tart cherries
2 tablespoons – chopped pecans or almonds
Pair each serving with:
8-ounce glass of milk
DIRECTIONS
In the bowl of a food processor or high speed blender, combine 1/2 cup milk, 1 cup rolled oats, nut butter, dried apple rings, apple pie spice, and salt. Pulse until mixture becomes fairly smooth and holds together when rolled. Transfer mixture to a medium size bowl.
Stir in remaining oats, dried cranberries/cherries, and chopped nuts. Roll mixture into tablespoon-size balls and place onto a parchment paper lined baking sheet. Chill for 1 hour or until firm.
Keep bites covered and refrigerated for up to 3 days. Pair with remaining 8-ounce glass of milk for a nutritious snack.
Recipe and photo by Emily Caruso of Jelly Toast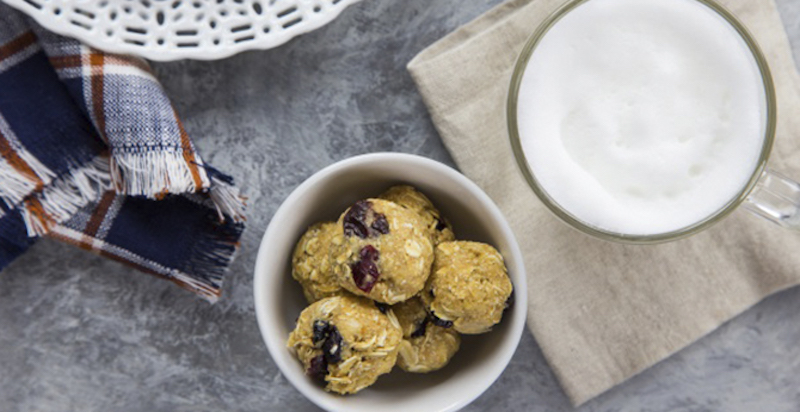 NUTRITION
190 calories; 3.5 g fat; 0 g saturated fat; 5 mg cholesterol; 12 g protein; 28 g carbohydrates; 2 g fiber; 150 mg sodium; 334 mg calcium. Nutrition figures based on using fat-free milk, and include an 8-ounce glass of fat-free milk.