Ingredients
1 cup – thawed frozen or drained canned peaches
4 tablespoons – honey, divided
2 tablespoons – lime or lemon juice
2 cups – low-fat or fat-free milk
1/2 teaspoon – ground cinnamon
1/2 cup – yellow or white grits
1/2 cup – fresh raspberries
1/4 cup – sliced almonds, toasted
DIRECTIONS
Toss the peaches, 1 tablespoon of the honey, and lime or lemon juice together in a bowl. Let stand while you prepare the grits.
Bring the milk, remaining 3 tablespoons honey, and cinnamon to a boil in a large saucepan. Reduce heat and slowly sprinkle in grits, whisking constantly to prevent lumps, and cook until thickened, about 5 minutes.
To serve, spoon some of the grits into shallow serving bowls and top with some of the marinated peaches, raspberries, and toasted almonds.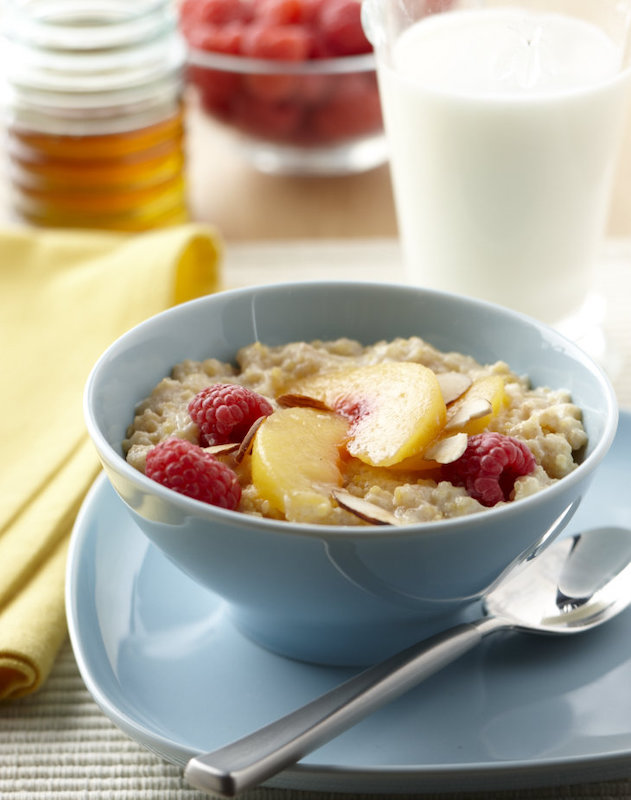 NUTRITION
240 calories; 3 g fat; 0 g saturated fat; 0 mg cholesterol; 7 g protein; 46 g carbohydrates; 2 fiber; 0 mg sodium; 150 mg calcium. Nutrition figures based on using fat-free milk.