Try a sweet twist on a breakfast sandwich and create this open-faced Monarch Muffin in the morning. Start by spreading cream cheese on the muffin and then arrange blueberries to serve as the beautiful markings of a monarch butterfly. Plate the sandwich by adding Mandarin orange slices beneath the muffin for the wings. Serve with an 8-ounce glass of milk, and you give your kids the milk they love, with protein they need, to give them a good start on the day.
Ingredients
1 – white English muffin
2 tablespoons – whipped cream cheese (1 tablespoon per half muffin)
6 – blueberries
4 – mandarin orange slices (about 1/2 an orange)
1 – green grape, cut into strips
Pair each serving with:
8-ounce glass of milk
DIRECTIONS
Slice and toast English muffin. Spread cream cheese on both halves of muffin.
Arrange three blueberries in a line down the middle of each half of the muffin and place a mandarin orange slice on each side of the blueberry lines to serve as wings of the butterfly. Place grape strips above blueberry line as antennas.
Serve with an 8-ounce glass of milk.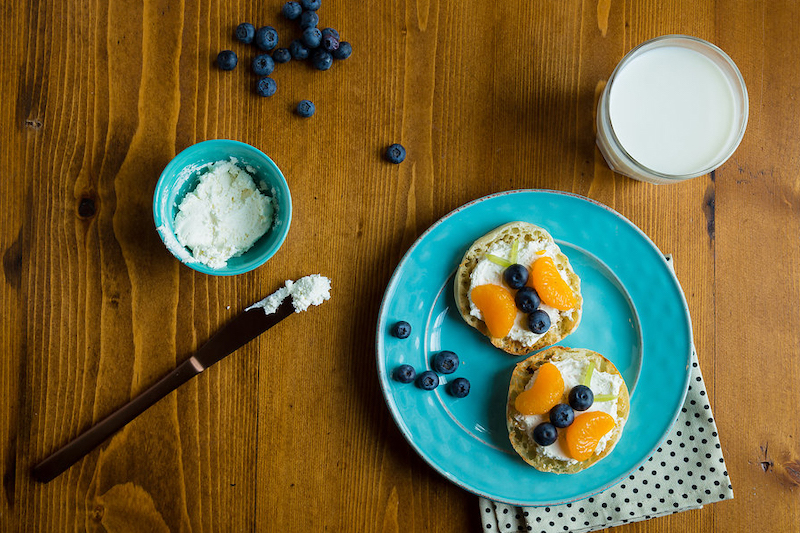 NUTRITION
310 calories; 8 g fat; 4 g saturated fat; 30 mg cholesterol; 14 g protein; 46 g carbohydrates; 2 g fiber; 440 mg sodium; 364 mg calcium. Nutrition figures include an 8-ounce glass of milk.