Want a tasty breakfast recipe to make after your trip to the pumpkin patch? Mix a traditional fall flavor with millet to create a delicious pumpkin porridge and make a hearty, warm breakfast. Pair with an 8-ounce glass of milk to get 17 grams of protein in the morning.
Ingredients
1 cup – dry millet
2 cups – water
1 cup –milk
1/2 teaspoon – kosher salt
1 cup – pumpkin purée
1 tablespoon – pure maple syrup
2 teaspoons – vanilla extract
1 teaspoon – pumpkin pie spice
1/4 cup – raisins
1/4 cup – chopped pecans
Pair each serving with:
8-ounce glass of milk
DIRECTIONS
Combine millet, water, 1 cup milk and salt in a medium saucepan over medium high heat. Allow millet to come to a light boil and then reduce heat to a simmer for about 20 minutes, until thick. Stir often.
While millet simmers, toast pecans in a toaster oven or dry skillet until fragrant, about 3 minutes, being careful not to burn them.
When thick, stir pumpkin, maple, vanilla, pumpkin pie spice and raisins into millet. Portion porridge evenly into four bowls and top each with a tablespoon of pecans. Serve with an 8-ounce glass of milk.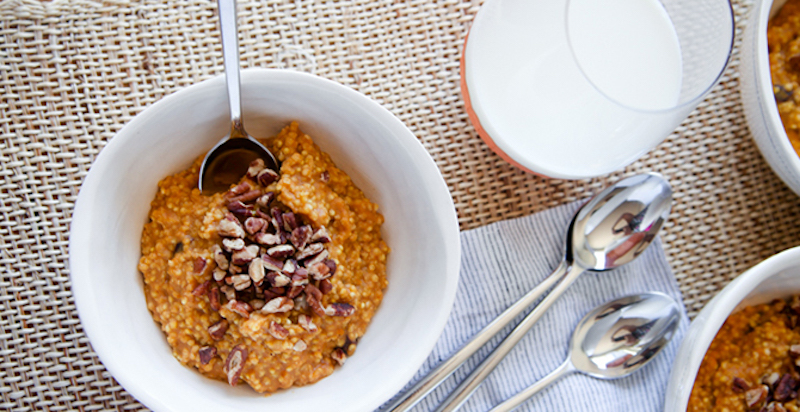 NUTRITION
410 calories; 7 g fat; 1 g saturated fat; 10 mg cholesterol; 17 g protein; 69 g carbohydrates;  8 g fiber; 380 mg sodium; 410 mg calcium. Nutrition figures based on using fat-free milk, and include an 8-ounce glass of milk.