Red, White and Blue Granola and Fruit Parfaits
Breakfast
Are you in search of easy, on-the-go kid friendly recipes? These red, white and blue granola and fruit parfaits are simple and quick to make. They're a tasty, nutritious breakfast option that provides both yogurt and milk that you can feel good about serving to your kids.
Ingredients
2 cups – fresh strawberries
1/8 cup – granulated sugar
3 cups – non-fat vanilla yogurt
1 1/2 cups – fresh blueberries
1/2 cup – granola
1/2 cup – pomegranate seeds (optional)
mint leaves (optional)
Pair each serving with:
8-ounce glass of milk
DIRECTIONS
Place strawberries and sugar into a small bowl. Mash the strawberries together until a sauce forms; leave some larger pieces intact. To assemble the parfaits, layer 1/4 cup vanilla yogurt into the bottom of six glasses or mason jars.
Top with 2 tablespoons of the strawberry sauce; follow with 2 tablespoons of blueberries and 1 1/3 tablespoons of granola. Repeat arrangement with remaining yogurt, strawberry sauce and blueberries so they are equally portioned among the six glasses or mason jars. Garnish with pomegranate seeds and mint leaves, if desired.
Serve parfaits with an 8-ounce glass of milk.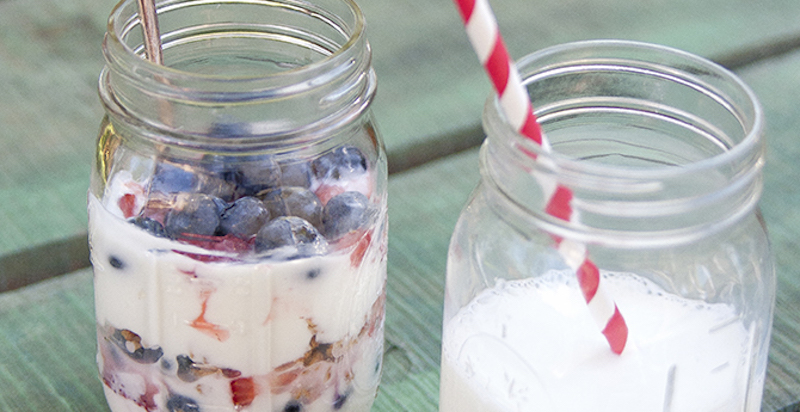 NUTRITION
280 calories; 2.5 g fat; 0  g saturated fat; 10 mg cholesterol; 14 g protein; 52 g carbohydrates; 3 g fiber; 170 mg sodium; 462 mg calcium. Nutrition figures based on using fat-free milk, and include an 8-ounce glass of milk.