Savory Smoked Salmon & Cream Cheese Protein Crepes
Breakfast
When you want to add more protein at breakfast, try these savory crepes — a perfect protein breakfast recipe for the entire family. Combine smoked salmon with cream cheese for a tasty way to get protein with crepes.
Ingredients
3/4 cup – milk
1 – large egg
1 – egg white
1 1/2 teaspoons – neutral flavored cooking oil (such as canola, avocado, grapeseed)
1 teaspoon – sugar
1/2 cup – all-purpose flour
4 tablespoons – whipped cream cheese, room temperature
2 teaspoons – chives, minced
4 ounces – smoked salmon
capers for garnish (optional)
Pair each serving with:
8-ounce glass of milk
DIRECTIONS
Mix together 3/4 cup milk, eggs, oil and sugar. Using a fine mesh strainer or sifter, sift one-quarter of flour into egg mixture, stir and repeat until all flour has been incorporated into batter.
Heat a non-stick skillet over medium heat. Pour a generous 1/4 cup batter into the center of the skillet and rotate pan to spread batter. When the top of the crepe is set (about 2 minutes), flip and lightly brown the other side, cooking for an additional 2 minutes or so. Flip crepes onto a paper towel and set aside.
Mix together room-temperature cream cheese and chives in small bowl. Gently spread about 1 tablespoon of the mixture over half of each crepe. Add 1-ounce smoked salmon to each crepe and sprinkle with a 5-6 capers if desired. Fold crepes in half and again into triangles. Serve with an 8-ounce glass of milk.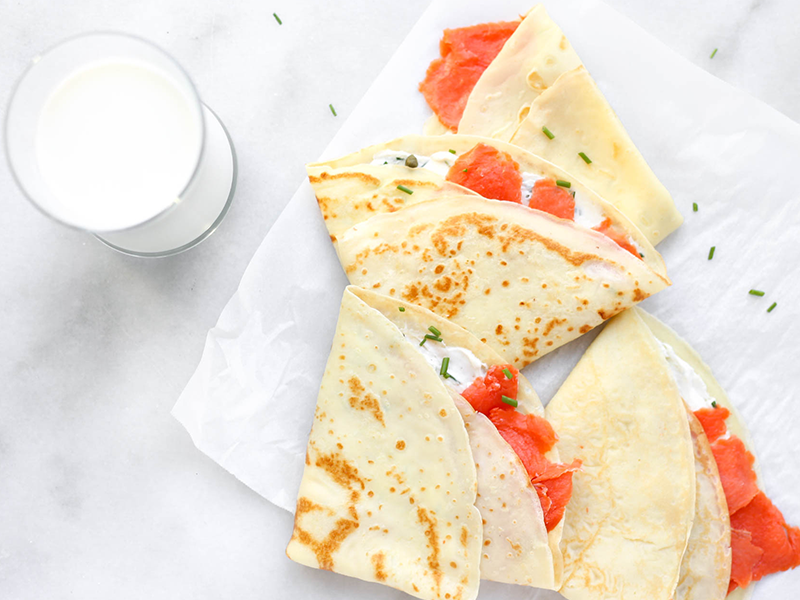 NUTRITION
450 calories; 16 g fat; 6 g saturated fat; 135 mg cholesterol; 32 g protein; 44 g carbohydrates; 1 g fiber; 660 mg sodium; 458 mg calcium. Nutrition figures based on using fat-free milk, and include an 8-ounce glass of fat-free milk.