Ingredients
1/2 cup – boiling water
1/2 cup – raisins
1 1/2 cups – quick-cooking oats
1 cup – bran cereal
1/2 cup – all-purpose flour
1/4 cup – sugar
1 1/2 teaspoons – baking soda
1 teaspoon – ground cinnamon
1/2 teaspoon – salt
1 cup – low-fat or fat-free milk
1/4 cup – honey
1/4 cup – canola oil
1 teaspoon – vanilla extract
1 teaspoon – lemon juice
1 – egg
DIRECTIONS
Preheat oven to 375°F. Line a standard-size muffin tin with paper liners.
In a small bowl, pour boiling water over raisins and let stand for 15 minutes. Mix oats, cereal, flour, sugar, baking soda, cinnamon, and salt together in a large bowl. In another bowl combine the milk, honey, oil, vanilla, lemon juice, and egg.
Make a well in the center of the dry ingredients and pour the wet ingredients and raisins (along with any residual soaking water) into the well. Stir just to combine, taking care not to overmix.
Fill muffin tins 2/3 full and bake for 18–20 minutes, or until muffins spring back when touched in the center. Let stand 10 minutes in the pan then transfer to a rack. Serve warm or room temperature.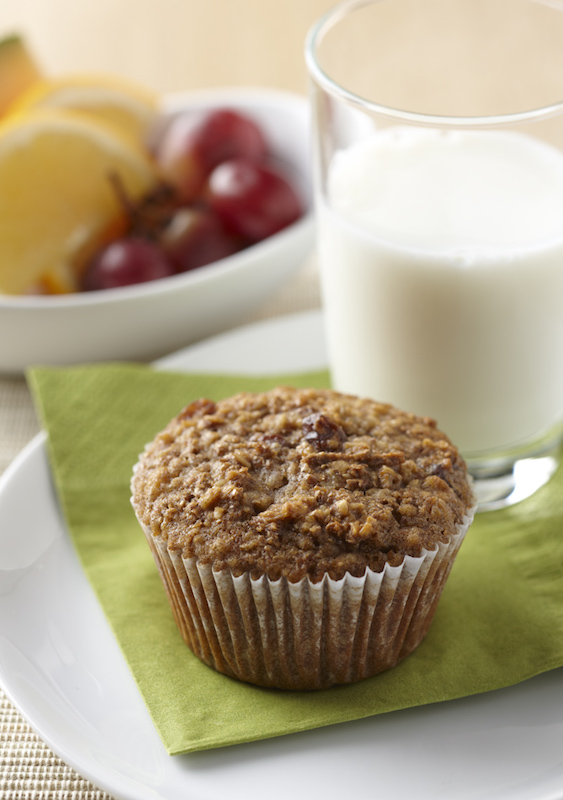 NUTRITION
190 calories; 6 g fat; 1 g saturated fat; 20 mg cholesterol; 4 g protein; 32 g carbohydrates; 4 fiber; 290 mg sodium; 40 mg calcium. Nutrition figures based on using fat-free milk.