Ingredients
Waffles:
2 cups – whole wheat flour
1 cup – all-purpose flour
1/2 cup – quick-cooking oats (not old-fashioned or instant)
1 tablespoon baking powder
1/4 cup – sugar
1 teaspoon – ground cinnamon
1/2 teaspoon – salt
2 cups – low-fat or fat-free milk
2 – eggs
1/4 cup – melted butter or vegetable oil
1 tablespoon – vanilla extract
Apricot Maple Syrup:
1 cup – pure maple syrup
1/2 cup – apricot preserves
DIRECTIONS
Preheat waffle iron and coat with non-stick spray. Whisk both flours, oats, baking powder, sugar, cinnamon, and salt together in a bowl.
In a second bowl, blend the milk, eggs, butter or oil, and vanilla until combined. Add the wet ingredients to the dry, stirring just until combined. Do not over mix—a few lumps are okay. Cook waffles on preheated grill according to the manufacturer's instructions.
Serve immediately with Apricot Maple Syrup or plain maple syrup.
Apricot Maple Syrup: In a small saucepan, warm maple syrup and apricot preserves until preserves are melted. Serve warm with waffles.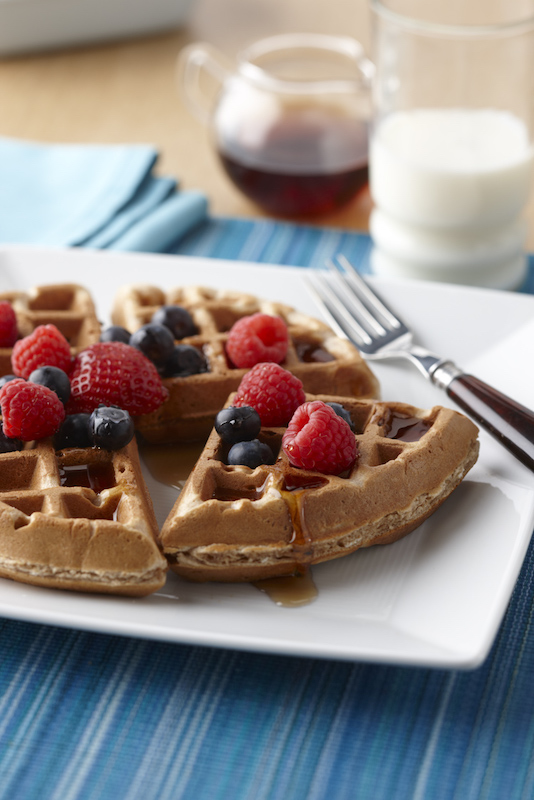 NUTRITION
Nutrition for one serving of waffles: 390 calories; 12 g fat; 2 g saturated fat; 75 mg cholesterol; 13 g protein; 62 g carbohydrates; 6 g fiber; 240 mg sodium; 250 mg calcium. Nutrition figures based on using fat-free milk.
Nutrition for one serving of Apricot Maple Syrup: 200 calories; 0 g fat; 0 g saturated fat; 15 mg cholesterol; 0 g protein; 53 g carbohydrates; 0 g fiber; 15 mg sodium; 40 mg calcium.