Ingredients
Cake:
1 box – yellow cake mix
1 cup – real milk
1/2 cup – melted unsalted butter
3 – large eggs
1/2 teaspoon – almond extract (optional)
Frosting:
1 1/2 cups – unsalted butter, at room temperature
1 cup – unsweetened cocoa powder
5 cups – powdered sugar
1/3 cup – real milk
1/2 teaspoon – vanilla extract
sprinkles (optional)
Pair each serving with:
8-ounce glass of real milk
DIRECTIONS
Preheat oven to 350°F and grease and flour two 8-inch cake pans. In a large bowl combine cake mix, milk, butter, eggs, and almond extract and mill well. Divide between prepared cake pans.
Bake for 28-33 minutes or until a toothpick inserted in the center of the cakes comes out clean. Invert cake on a cooling rack and allow to cool completely before frosting.
To make the frosting, cream together butter, cocoa powder, powdered sugar, milk, and vanilla until light and fluffy. Add more milk one tablespoon at a time if needed to reach desired consistency. Spread on completely cooled cake, add sprinkles, and serve or cover tightly and store at room temperature up to 48 hours before serving.
Enjoy with a glass of real milk!
Recipe created by Tiffany of Crème de la Crumb.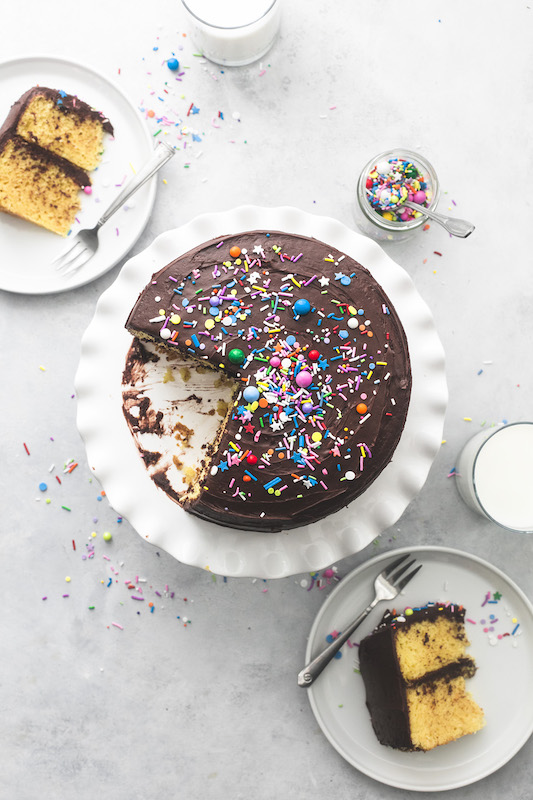 NUTRITION
410 calories; 18 g fat; 11 g saturated fat; 70 mg cholesterol; 11 g protein;  54 g carbohydrates; 1 g fiber;  270 mg sodium;  366 mg calcium. Nutrition figures based on using low-fat milk and include an 8-ounce glass of milk.