Ingredients
1 cup – all-purpose flour
1/2 cup – buckwheat flour
1/4 cup – brown sugar
1 tablespoon – baking powder
2 teaspoons – ground cinnamon
1/2 teaspoon – salt
pinch – ground nutmeg
3 tablespoons – unsalted butter, cold, cubed
1/2 cup – quick-cooking oats + 1 tablespoon oats
1/2 cup – low-fat or fat-free milk
2 – eggs
1 – egg white
1/2 teaspoon – vanilla extract
6 tablespoons – sunflower seed butter
1 cup – fresh blueberries
1 cup – sliced banana
DIRECTIONS
Preheat the oven to 425°F. Line a baking sheet with parchment paper or coat lightly with non-stick spray.
In a large bowl, stir together the all-purpose flour, buckwheat, brown sugar, baking powder, cinnamon, salt, and nutmeg. Cut in butter using a pastry blender or two knives until mixture resembles coarse meal; stir in the 1/2 cup of oats.
Whisk the milk, eggs, egg white, and vanilla in a bowl until combined. Pour the milk mixture over the dry ingredients and stir just until moistened.
Scoop the batter into six mounds onto the prepared baking sheet, sprinkle each with some of the remaining tablespoon of oats, and bake for 15 minutes, or until golden and set. Let biscuits cool on the baking sheet for 10 minutes, then transfer to a cooling rack to cool completely.
To serve, split each biscuit in half and spread the bottom half with 1 tablespoon sunflower seed butter. Top with some of the blueberries and bananas; arrange second half of biscuit on top. Serve with a glass of milk.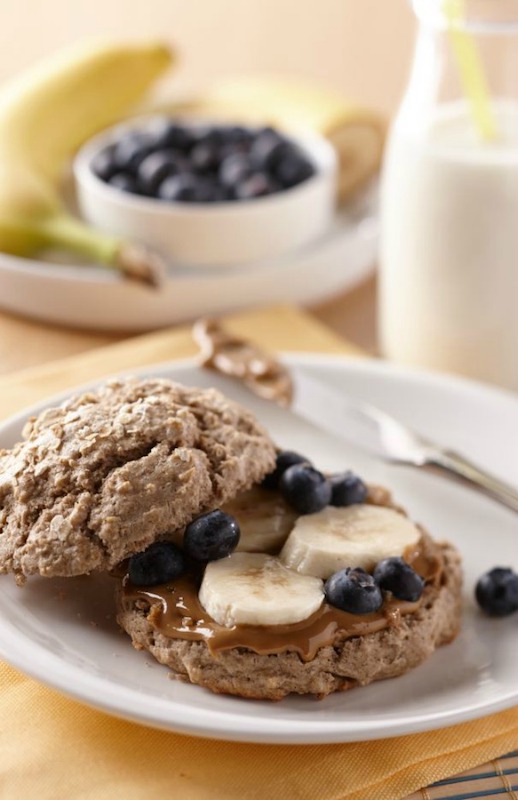 NUTRITION
410 calories; 18 g fat; 5 g saturated fat; 85 mg cholesterol; 12 g protein; 56 g carbohydrates; 5 g fiber; 290 mg sodium; 181 mg calcium. Nutrition figures based on using fat-free milk.