Ingredients
Donuts:
1 3/4 cup (228g) – all-purpose flour
1 cup (200g) – sugar
3/4 teaspoon – kosher salt
1 teaspoon – baking powder
1/2 teaspoon – baking soda
zest of 1/2 a lemon
1 – large egg
1/2 cup (120 ml) – low-fat buttermilk
1/4 cup (50 ml) – flavorless oil (for example, canola oil)
1 teaspoon – vanilla extract
1/2 teaspoon – almond extract
1/4 cup (59 ml) – water
Vanilla Glaze:
2 1/4 cups (270g) – powdered sugar
1 tablespoon – light corn syrup
3-4 tablespoons – whole milk
pinch – kosher salt
splash – vanilla extract
Chocolate Glaze:
2 cups (240g) – powdered sugar
1/4 cup (20g) – unsweetened cocoa powder
1 tablespoon – light corn syrup
3-4 tablespoons – whole milk
pinch – kosher salt
Pair each serving with:
8-ounce glass of real milk
DIRECTIONS
Preheat the oven to 375°F. Coat a 12-cavity donut pan with cooking spray and set aside.
In a large bowl, whisk together the flour, sugar, salt, baking powder, baking soda and zest. In a medium bowl, whisk together the egg, buttermilk, oil, vanilla, almond extract and water.
Add the wet mixture to the dry mixture and stir until just combined. Fill a piping bag or ziplock bag with a corner snipped off with the batter and pipe the batter into the donut pans, filling each cavity halfway. If you have any remaining batter, you can bake it in a second batch.
Bake for 12 minutes, or until a toothpick inserted into a donut comes out clean. Cool in the pan for 5 minutes. Remove to a rack and cool completely. (A mini spatula helps remove them from the pans!)
For glazes, start with the vanilla glaze.
Mix together the sugar, corn syrup, 3 tablespoons of milk, salt and vanilla. Add additional milk little by little until the mixture is pourable (you might not need the full remaining tablespoon). Don't add too much milk as you want the glaze to be thick and opaque, but not too thick that it won't stick to the donuts. To make your glaze thicker add more powdered sugar, and to thin it out add more milk.
Place a baking sheet or piece of parchment paper underneath the rack of donuts and dip each donut halfway into the vanilla glaze, scraping off excess glaze from the bottom and returning it to the rack to dry. Let dry for at least 20-30 minutes.
For the chocolate glaze, use the same method as above, swapping your vanilla for chocolate, and carefully dip the unglazed half of the donuts into the chocolate glaze. It's helpful to use a spatula to help nudge the chocolate glaze right up against the vanilla. Scrape excess glaze off of the bottom, place back on the rack and let dry.
When the donuts are ready, serve alongside a glass of real milk, and enjoy!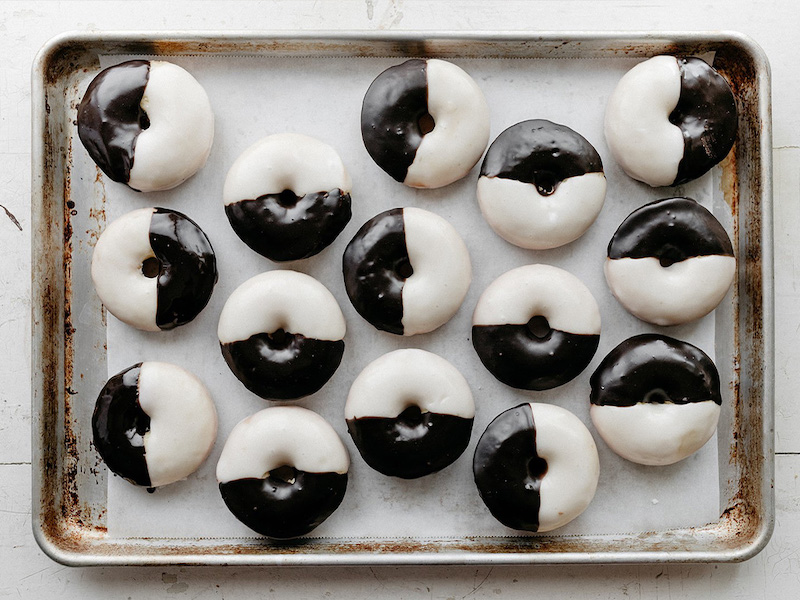 NUTRITION
470 calories; 8 g fat; 2.5 g saturated fat; 25 mg cholesterol; 11 g protein; 90 g carbohydrates; 1 g fiber;  370 mg sodium;  346 mg calcium. Nutrition figures based on using 3 tablespoons of whole milk for the vanilla and chocolate glaze and include an 8-ounce glass of low-fat milk.