Ingredients
Bowl:
2 cups – cooked short grain brown rice
1/2 cup – low-sodium canned black beans
1/4 cup – red peppers, diced
2 tablespoons – red onions, diced
2 teaspoons – lime juice
1/2 teaspoon – cumin
1/4 teaspoon – salt (optional)
Topping:
non-stick cooking spray
2 – large eggs
1/2 cup – plain non-fat Greek yogurt
1 tablespoon – cilantro, minced
1 teaspoon– lime juice
1 ounce – Cotija cheese, crumbled
Pair each serving with:
8-ounce glass of milk
DIRECTIONS
In a sauce pan, combine the black beans with their liquid, red pepper, onions, lime juice, cumin, and salt (optional). Heat over low heat until most of the liquid has absorbed.
Heat a skillet over medium-low heat and spray with cooking spray. Crack both the eggs and fry for 2 minutes, until the whites are beginning to set. Flip and continue to cook until egg yolks are at your desired doneness.
In a small bowl, stir together the Greek yogurt, cilantro, and lime juice. Assemble the bowl with rice, cooked black beans, fried eggs, and add the cilantro yogurt. Sprinkle with Cotija cheese. Serve with 8-ounce glass of milk.
Recipe and photo by Erin Alderson of Naturally Ella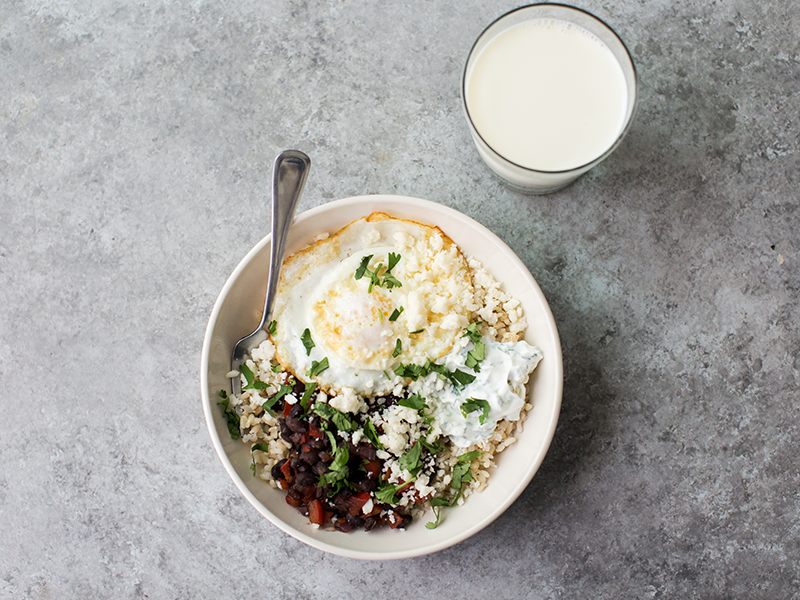 NUTRITION
520 calories; 11 g fat; 4 g saturated fat; 205 mg cholesterol; 31 g protein; 74 g carbohydrates; 8 g fiber; 390 mg sodium; 518 mg calcium. Nutrition figures based on using fat-free milk, and include an 8-ounce glass of milk.