Take a bite out of this breakfast bake that tastes just like apple pie. It's a warm and hearty addition to your next brunch or an easy way to top your toast. Baked apples bring the flavors, sweetness and comfort of pie to the next level in the morning.
Ingredients
1/2 cup – reduced-fat granola
1/4 cup – dried cranberries
1/4 cup – walnuts, finely chopped
1 3/4 cups – fat-free or low-fat milk
1/2 teaspoon – ground cinnamon
1/4 teaspoon – ground nutmeg
6 – sweet-tart baking apples (such as Rome), top half peeled, cored
1 tablespoon – honey, divided
For Serving:
3 cup fat-free milk; 1/2 cup per apple
DIRECTIONS
Preheat oven to 375°F. Lightly coat a 2-qt. baking dish with non-stick spray.
Combine the granola, dried cranberries, walnuts, milk, and spices in a small bowl. Let stand for 10 minutes to help absorb the milk.
Arrange the apples, peeled side up, in the baking dish and evenly divide the granola among the cavities of the apples. Cover the dish and bake the apples for 30 minutes; remove the foil and bake another 15 to 20 minutes, or until tender when pierced with the tip of a sharp knife.
Transfer each apple to a shallow serving bowl and drizzle each with a teaspoon of honey and additional 1/2 cup of milk per apple.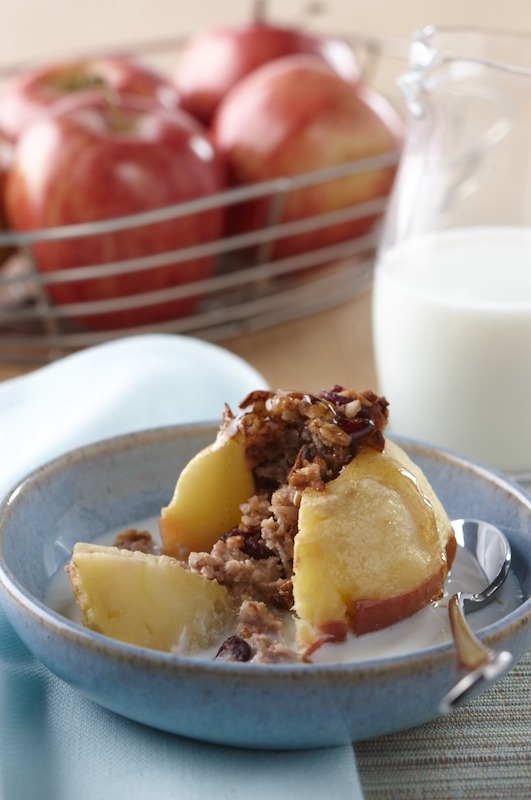 NUTRITION
210 calories; 3.5 g fat; 0 g saturated fat; 0 mg cholesterol; 8 g protein; 42 g carbohydrates; 6g fiber; 10 mg sodium; 250 mg calcium. Nutrition figures based on using fat-free milk.