Breakfast Green Chile Cheese Soufflé
Breakfast
Ingredients
1 cup – low-fat or fat-free milk
5 – eggs
1/2 cup – Monterey Jack or Cheddar cheese, shredded
3 tablespoons – all-purpose flour
1 teaspoon – kosher salt
8 ounces – ground turkey sausage
1 cup – frozen hash browns
1/4 ounce can – green chiles, chopped
3 tablespoons – fresh cilantro, chopped
prepared fresh salsa (optional)
Pair each serving with:
8-ounce glass of milk
Morning snack:
1 – part-skim mozzarella cheese stick
1/2 – medium apple, sliced
DIRECTIONS
Preheat oven to 425°F. Grease six 6-ounce ovenproof ramekins or custard cups with non-stick spray; arrange on a baking sheet and set aside. In a bowl whisk together 1 cup milk, eggs, cheese, flour, and salt; set aside.
In a large non-stick skillet over medium-high heat, brown turkey sausage until nearly cooked through. Add hash browns and green chiles, and stir until heated through. Combine sausage mixture with egg mixture and stir well.
Divide the soufflé mixture evenly among the prepared ramekins. Bake in the preheated oven 20 to 25 minutes or until soufflés are puffy, browned, and set in the center.
Sprinkle cilantro over soufflés and serve with fresh salsa, if desired. Serve with remaining 8-ounce glass of milk.
Enjoy a morning snack of cheese stick and apple help get 33 grams of protein before noon.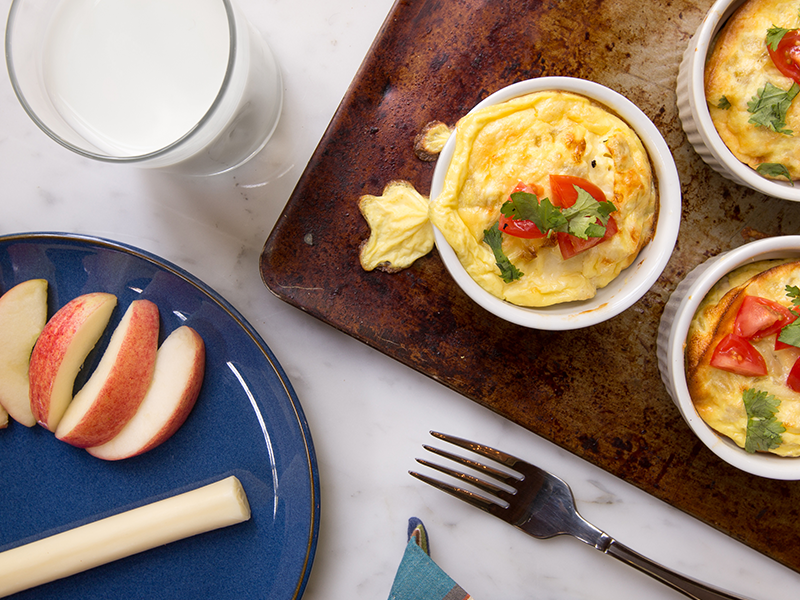 NUTRITION
Breakfast Green Chile Cheese Soufflés:
290 calories; 10 g fat; 4 g saturated fat; 195 mg cholesterol; 25 g protein; 25 g carbohydrates; 1 g fiber; 780 mg sodium; 430 mg calcium. Nutrition figures based on using fat-free milk, and include an 8-ounce glass of milk.
Morning Snack:
130 calories;  6 g fat; 3.5 g saturated fat; 15 mg cholesterol; 8 g protein; 14 g carbohydrates; 2 g fiber; 240 mg sodium; 205 mg calcium.