Lasagna — it's not just for an Italian dinner anymore. Try this delicious kid-friendly recipe with a South of the border twist for breakfast lasagna, perfect for a weekend brunch. When you want to add protein at breakfast, start with layers of scrambled eggs and tortillas instead of pasta. Top with spicy ingredients, including jalapeños, salsa verde and cilantro, and serve up the quintessential flavors for a morning Mexican fiesta. When paired with a glass of milk, you have a tasty way to eat 20 grams of protein at breakfast.
Ingredients
2 teaspoons – vegetable oil, divided
3/4 cup – green bell pepper, chopped
1/2 – jalapeño chile, seeded, minced
1/2 teaspoon – ground cumin
1/2 teaspoon – dried oregano leaves
5 – eggs, slightly beaten
1/2 cup – green onions, minced (about 3) + more for serving
1/3 cup – fresh cilantro, minced + more for serving
1 jar – purchased salsa verde
9 – 6" corn tortillas
1 1/2 cups – shredded Monterey Jack cheese
1 can – low-sodium black beans, drained, rinsed
plain non-fat Greek yogurt (optional)
Pair each serving with:
8-ounce glass of milk
DIRECTIONS
Coat a 9×13-inch baking dish with non-stick spray.
In a large non-stick skillet, heat 1 teaspoon of the oil over medium-high. Add the green pepper, jalapeño, cumin, and oregano; cook until vegetables are softened, about 3 minutes more. Transfer mixture to a bowl.
Return the skillet to the burner and add the remaining teaspoon of oil. When hot, add the eggs and cook just until set, stirring often. Transfer eggs to the bowl with the bell pepper mixture. Fold in the green onions and 1/2 cup cilantro.
To assemble the casserole, spread 1/2 cup salsa on the bottom of the prepared baking dish. Arrange 3 tortillas on the salsa, overlapping if needed. Spoon half the egg mixture over the tortillas. Drizzle with 1/2 cup salsa verde, then sprinkle with half the black beans and 1/2 cup cheese.
Repeat layering with three more tortillas, the remaining egg mixture, 1/2 cup salsa, remaining beans, and 1/2 cup cheese. Top with the last three tortillas, then top with the remaining 1/2 cup cheese and any remaining salsa. Cover the baking dish with foil and refrigerate overnight if desired.
Preheat the oven to 350°F. Bake the lasagna, covered, for 30 minutes or until hot, then remove the foil and bake for 10 more minutes or until bubbly. Let stand for 10 minutes before serving. Cut into 10 squares and serve with yogurt, additional green onions and cilantro. Pair each serving with an 8-ounce glass of milk.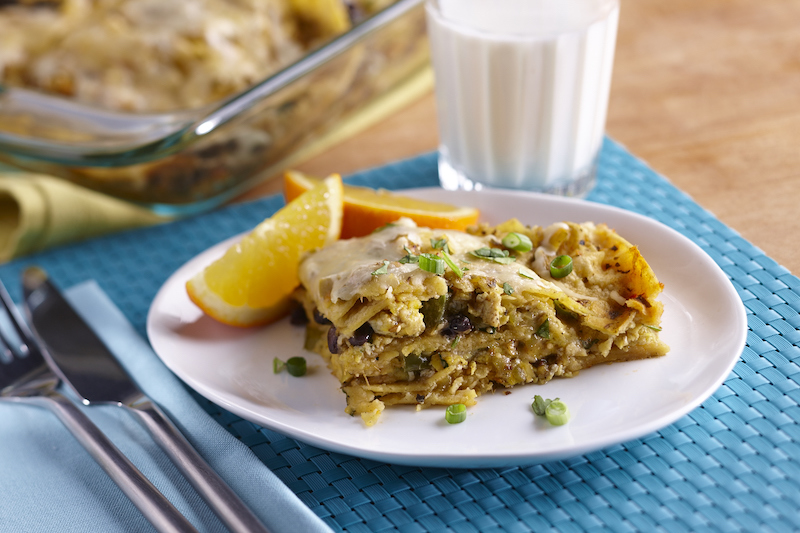 NUTRITION
300 calories; 9 g fat; 4.5 g saturated fat; 115 mg cholesterol; 20 g protein; 35 g carbohydrates; 5 g fiber; 490 mg sodium; 505 mg calcium. Nutrition figures based on using fat-free milk, and include an 8-ounce glass of milk.