Bring the perfect blend of fall flavors to your breakfast table with this Butternut Squash and Sage Frittata recipe. These traditional tastes of fall pair perfectly with a glass of milk in the morning.
Ingredients
Crispy Sage Leaves:
3 tablespoons – extra virgin olive oil
6-8 – small fresh sage leaves
pinch – kosher salt
Frittata:
2 teaspoons – extra virgin olive oil
1 1/2 cups – butternut squash, diced (about 8 ounces)
1 – clove garlic, minced
2 – large sage leaves, chopped
6 – large eggs
1/2 cup – fat-free milk
1/4 teaspoon – freshly ground black pepper
1/4 teaspoon – kosher salt
1/8 teaspoon – freshly ground nutmeg
Pair each serving with:
8-ounce glass of milk
DIRECTIONS
To prepare the crispy sage leaves, heat olive oil in a small skillet until shimmering. Fry sage leaves in oil until crispy, about 5 seconds. Remove sage leaves from oil and drain on a paper towel. Sprinkle with salt while hot.
To prepare the frittata, preheat oven to 425°F. Heat oil in a 10-inch cast iron skillet (or other oven-proof skillet), over medium-high heat. Add butternut squash, and stir to coat in oil. Spread butternut squash in a single layer and allow to cook for 2-3 minutes before stirring. Repeat this process until squash becomes tender and begins to caramelize in places, about 10 minutes total.
Add garlic and chopped sage and stir until fragrant, about 60 seconds.
In a large bowl, whisk together eggs, 1/2 cup milk, pepper, salt and nutmeg. Pour mixture into skillet and stir gently for about 15 seconds to distribute squash evenly around the pan. Transfer skillet to oven and cook for 10 minutes or until egg is puffed and set. Remove from oven and let cool for about 3-5 minutes before cutting and serving with crispy sage leaves, as prepared per the above directions. Serve with remaining 8-ounce glass of milk.
Notes on preparing butternut squash:
Separate the round end from the long portion of the squash. Save the round end for a separate recipe and peel the long portion with a vegetable peeler. Thinly slice squash with a sharp check's knife. Cut slices into long matchsticks then chop into cubes. Pre-cut, store-bought butternut squash can be used in place of cutting an entire squash.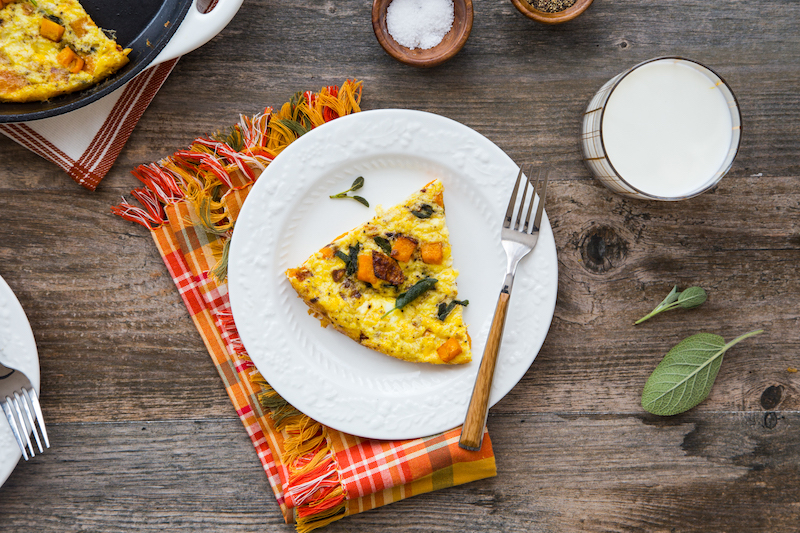 NUTRITION
200 calories; 7 g fat; 2 g saturated fat; 195 mg cholesterol; 15 g protein; 18 g carbohydrates;  1 g fiber; 290 mg sodium; 375 mg calcium. Nutrition figures based on using fat-free milk, and include an 8-ounce glass of milk.