Serve the tastes of a classic Italian salad for breakfast with basil, tomatoes and mozzarella cheese combine to create a delicious omelet option. It's like starting your day with a healthier Margherita pizza.
Ingredients
2 teaspoons – olive oil
1 – large egg
2 – large egg whites
3 tablespoons – fat-free milk
1 – beefsteak tomato, sliced
1/4 cup – low-fat shredded mozzarella cheese
1 tablespoon – fresh basil, chopped
Pair each serving with:
8-ounce glass of milk
DIRECTIONS
Heat olive oil in a large non-stick pan over medium heat. Beat eggs and 3 tablespoons milk together in a small bowl until well mixed.
Pour egg mixture into heated pan, swirling the pan until eggs cover the bottom. Allow the eggs to set and no visible liquid remains, about 2-3 minutes.
After the eggs have set, arrange the tomatoes, cheese and basil on one side of the eggs. Using a spatula, carefully fold omelet in half, bringing the egg portion over the filling. Remove omelet from pan and serve with an 8-ounce glass of milk and enjoy
Recipe and photo Chrissy Taylor of The Taylor House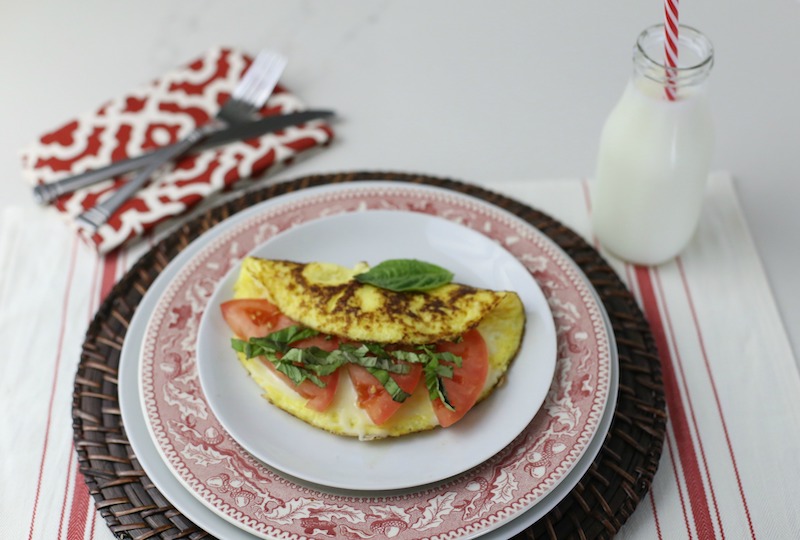 NUTRITION
370 calories; 18 g fat; 5 g saturated fat; 210 mg cholesterol; 32 g protein; 21 g carbohydrates; 2 g fiber; 510 mg sodium; 806 mg calcium. Nutrition figures based on using fat-free milk, and include an 8-ounce glass of milk.