Ingredients
2 cups – cooked and diced chicken
1/3 cup – unsalted butter
3 – celery ribs, chopped
3 – carrots, thinly sliced or diced
1/2 – onion, diced
1/3 cup – flour
1/2 teaspoon – salt or to taste
1/4 teaspoon – pepper or to taste
1 – chicken bouillon cube
1 teaspoon – garlic powder
1 3/4 cups – chicken broth
1 cup – real milk
1 cup – frozen peas
1/2 cup – frozen corn
2 tubes – refrigerated croissant dough
Pair each serving with:
8-ounce glass of real milk
DIRECTIONS
Preheat oven to 400°F. Grease a 9×13-inch baking dish and set aside.
Add butter, celery, carrots, and onions to a large sauce pan and sauté over medium heat 3-4 minutes or until tender. Stir in flour, salt, pepper, bouillon cube, and garlic powder. Gradually stir in the chicken broth and milk. Simmer over medium-low heat until thickened.
Stir in chicken, peas, and corn. Taste, add salt and pepper if needed. Transfer everything to prepared baking dish. Cover the dish with the croissant dough.
Bake for 25-30 minutes until crust is golden brown. Allow to cool for about 15 minutes before serving.
Enjoy with a glass of real milk!
Recipe created by Tiffany of Crème de la Crumb.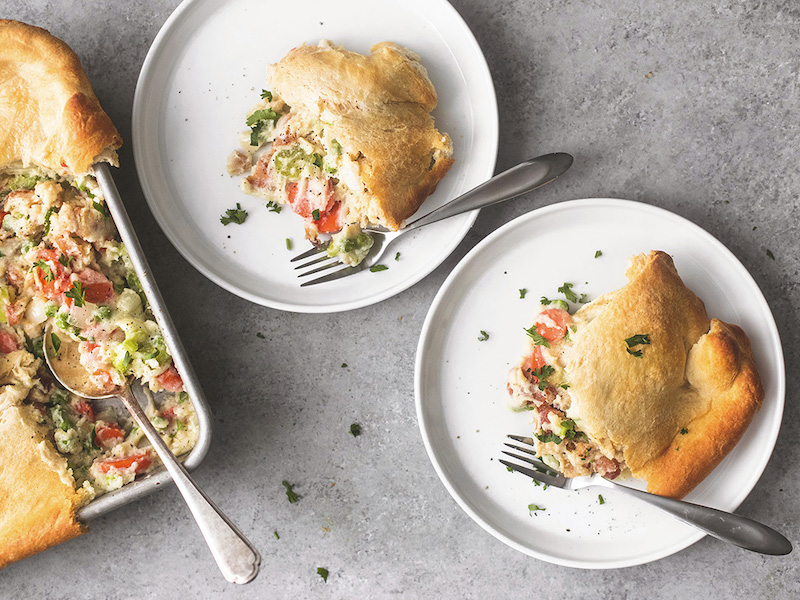 NUTRITION
440 calories; 20 g fat; 9 g saturated fat; 50 mg cholesterol;  23 g protein;  41 g carbohydrates; 2 g fiber; 900 mg sodium; 355 mg calcium. Nutrition figures based using low-fat milk and include an 8-ounce glass of milk.